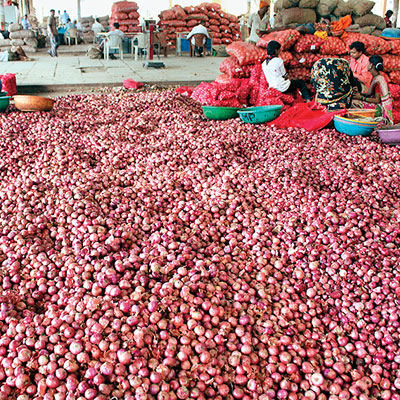 Retail stores in the city, it seems, are coming up with new ways to make big money. They are creating a shortage scenario claiming decrease in supply of onion despite the Agricultural Produce Market Committee (APMC) in Vashi having ample supply of the staple vegetable. Traders say there is enough produce in the Vashi market, sufficient for the months to come.
The price of onion in APMC is Rs12 a kg, while retailers are cashing in with a margin of 150% hike. "We have sufficient produce. The rates here in the market are also stagnant at the moment. What the retailers are doing is defaming the market," said Mukesh Shah, president of onion-potato market.
"Though the crops are a month late as of now, there is nothing that can go wrong. There could be a possibility of shortage in the month of August, but no drastic hike is expected," he added.
Reiterating Shah, trader Nitin Parakh said, "These are all speculations, there is an average of 125 trucks that come in everyday. Also, the weather has destroyed nearly 50% of the crops, but that has not affected the market drastically in any way."
In the past few months, onion has entered the race of cash crops, with the prices soaring. Onion prices had hit the peak due to hailstorms as the crop had been damaged then. The vegetable was being sold at Rs100 a kg. Anticipating similar trend, traders may resort to hoarding and faking a crisis situation, resulting in the demand going up and, subsequently, the prices.
"If government restricts the export, it may change the fundamentals of the market. Hoarders from major markets in other cities will also release their produce. The estimated shortage will vanish," said a trader, requesting anonymity.
Trader DT Kanse said, "Showers during the harvest season have caused onions to rot in the warehouse itself. The produce in Maharashtra has been affected but we have adequate supply and are good to survive the monsoon."
Traders say Rs100 a kg is a hoax and there is nothing to worry about. The price difference in wholesale and retail is an artificial inflation created by retailers. The shelf life of onion is about three to six months, so hoarding in monsoon is not a feasible option.
Current wholesale price is Rs12, whereas retail is Rs30. A week ago, retail was Rs22. The rough patch was from October, when prices kept soaring — Rs70 in wholesale and Rs100 in retail. In the month of March, prices dropped down to Rs7 in the wholesale market, finally coming to rest at around Rs15 later in April.