Foodies around Mumbai are in for a treat as some of the city's fanciest eateries attempt to woo their taste-buds once again with the Restaurant Week.
Encouraging the already rampant trend of "eating out", Restaurant Week India, organised by Citibank, will have prime diners around the city open their kitchens to customers at a fraction of their original cost.
Starting September 23 to October 2, this year's event will see around 25 finest restaurants in Mumbai, including brands such as the Taj, ITC, Blue Frog and others, that will offer a culinary experience in a special three-course menu created for the event.
Participating restaurants in Mumbai will offer this menu at reduced prices of Rs 1000 for lunches and Rs 1200 for dinners. And if earlier events are anything to go by, then we know that Mumbai really loves its food and the bookings spots will be expected to fill up fast. In April 2013 over 10,300 diners attended the event visiting 72 of India's finest restaurants their website reveals.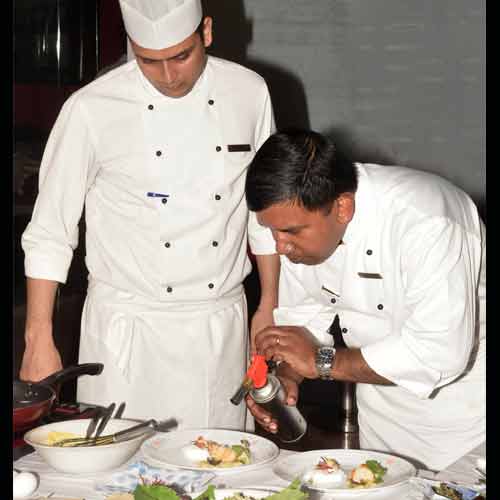 Chefs at work at Restaurant Week, 2012

Food Blogger Anisha Bangera who writes at Thoughts on a plate talks fondly of her experience, "I visited Hakkasan during the last Restaurant Week. It was great considering I had never been there before because my friends kept telling me that it's too expensive. Nobody wants to visit a restaurant and later find out out that it's going to hit their pockets hard and still leave them hungry at the end of the night. So a set menu for a nominal price was fantastic. I got to try out the food and pay what I believe was a third of what I would have spent otherwise."
"I will definitely visit some restaurant this year as well. The key to making the most of this special week is to visit a restaurant you haven't tried before. So I might head to Neel or Koh," she adds.
Ashrita, another food aficionado who writes at Caramel Wings agrees, "I'm all for set course meals. A complete culinary experience dished out to you at a special price makes it all the more exciting," she quips.
Registrations to the event, which is now in its seventh edition, can be made online. Considering the large foot fall in the past events, a real-time index on the website will let you know which restaurants are still open to bookings. Restaurant Week India runs typically in March and September simultaneously across Bangalore, Delhi and Mumbai, showcasing over 70 restaurants across the three cities.