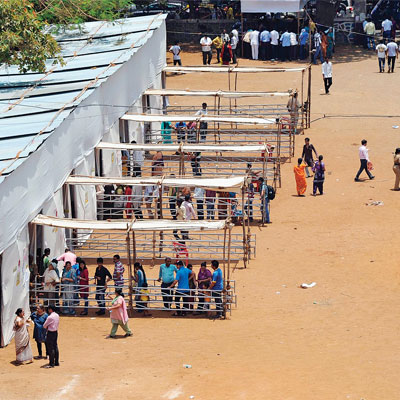 Though the city registered its highest turnout after 1991 with 52.67% voters — up by around 12 percentage points than five years ago — turning out to exercise their franchise, the polling in Mumbai was marred by names of lakhs of voters being deleted from the rolls.
The opposition Shiv Sena and BJP were quick to cry foul, alleging that legal procedures for the deletions, which they claimed ran into lakhs, were not followed and that "this was criminal negligence and conspiracy". Considering slender margins that can make or break fortunes in times of a fractured polity — Sanjay Nirupam (Congress) trounced Ram Naik of the BJP by just 2,993 votes in 2009 from North Mumbai — these missing names across the city, which include celebrities like HDFC chairman Deepak Parekh and actors Atul Kulkarni and Vandana Gupte, may eventually help tip the scales.
The increased turnout, the highest after 1989's 57.7%, can be attributed to the anti-incumbency mood sweeping the country, the development and soft-Hindutva pitch made by the BJP and its prime ministerial nominee Narendra Modi, an aggressive social media, enthusiasm of first-time voters and senior citizens, polling being scheduled mid-week and a resurgent middle class powered by the rise of civil society political formations like the AAP.
The South Central Mumbai constituency, where Congress MP Eknath Gaikwad is ranged in a tug-of-war with the Shiv Sena's Rahul Shewale, Aditya Shirodkar of the MNS and the AAP's Sunder Balkrishnan, saw the highest turnout of 55%, followed by elite South Mumbai at a close 54%, North East (53%), North and North Central (52%) and North West Mumbai (50%).
Conventional wisdom suggests that a higher turnout works against the incumbents — the Congress and NCP in this case. Despite the multipolar contests due to presence of new players like the AAP, the increased turnout, up from just 41.42% in 2009 (the lowest), may give jitters to the Congress-NCP, which swept all six seats in Mumbai due to the presence of the MNS and low polling percentages.
In 2009, around 41.42% voters had cast their votes, with the lowest turnout seen in South Central Mumbai (39.51%), followed by North Central (39.52%), South (40.37%), North East (42.47%), North (42.61%) and North West (44.05%). The turnout in Mumbai was 47.25% in 2004, as compared to 45% in 1999, 50.4% in1998, 45.1% in 1996 and 41.6% in 1991.
Political activists and residents of minority dominated areas say the polarisation around Modi and the attempts by the Congress to centre the election around binaries of communal and secular may have led to an increased turnout from Muslims. "People angry at the Congress but wary of Modi may turn out to vote for it in large numbers to prevent the BJP from coming to power. Those who stay away from voting otherwise have turned out to vote due to this," said Kamathipura resident Fahim Shaikh, claiming that such voters made up at least 30% of the turnout. The BJP and Sena are banking on a reverse consolidation from the majority community to make the cut.
However, voters complained that despite voting in the past, their names had gone missing from the rolls this time. Nisha Upadhyaya, a resident of Matunga's Alka Housing Society, complained that names of all residents in her building were missing from the rolls. "Most of us had exercised her franchise till the 2012 civic polls. However, all of a sudden our names have gone missing," she said. Protesting citizens in Wadala were allegedly roughed up by the police.
The ECI has deleted names of 3,32,969 voters in the island city of Mumbai and 2,69,941 in the suburbs, including categories like those who are dead, duplicate, missing or have shifted.
While the Election Commission asks voters to fulfill their democratic duty by exercising their franchise, glitches in the voters registration process took the sheen out of these appeals. Kamathipura resident Sunil Shahu, 38, was upset that this was the third time he was turning back from a polling station due to his name not being added to the rolls despite registration. "Every time I have been registering with them and they give me a slip saying that I will get a voter card . When I follow up, I never get it. All my family members have been able to vote for the three elections except me," said Shahu. Some applicants were turned down despite submitting necessary documents.
"This amounts to criminal negligence and conspiracy," charged a livid Kirit Somaiya, BJP leader and candidate from the North East constituency, adding that the 2 lakh names had been deleted from constituencies of Mulund, Bhandup, Ghatkopar East and West, which are saffron strongholds, without giving notices and hearings to affected people as was mandated. The BJP alleges that areas like Mankhurd Shivajinagar, which have a strong Congress and NCP presence, have seen lesser deletions.
"The ECI... did this purposely through a design," said Somaiya, who added that 1.70 lakh names had been deleted in the first phase in January 2013, without following the procedures. However, the remaining names had been deleted in January this year after following the rules, pointed out Somaiya, who is set to file a case of criminal negligence against the Election commission. The ECI, which had for the first time decided to deliver slips to voters as against political parties who usually do this, also seemed to have fallen short in this respect.
Earlier, chief electoral officer Nitin Gadre's told dna: "These are not missing names. The deletions were done six months ago as per the legal process. The revised lists were given to all political parties with suitable publicity at local levels by district collectors and the new lists have been available on the state election commission website for the past six months for voters to check their names."
On the ground, voting figures were sluggish till noon, picking up only after 3pm, with residents turning out after the mercury headed south. In South Mumbai, turnout was a low 29%, but surged to 54% in the next three hours, while in neighboring South Central, the figure rose from 32% to 55% in the same period.
"We are yet to analyze the final data as figures are still tentative. However the trend shows that its surely highest since 1998. The final confirmation, however, can only be given by tomorrow [Friday]," said a senior election commission official. Though ECI officials said there were no complaints of snags in EVM machines, residents in areas like Ghatkopar and Kandivli complained that polling began late due to faulty machines.