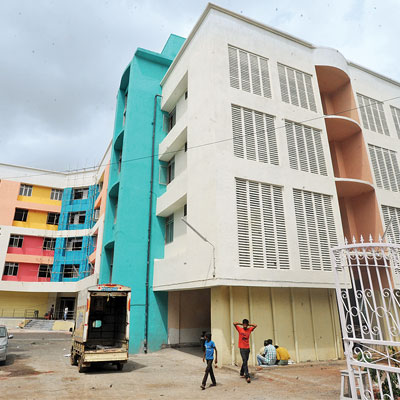 Thousands of children of Cheetah Camp, Trombay area, are studying in an unauthorised civic school reconstructed in the last three years. Locals are running from pillar to post to get the building regularised, but authorities are turning a blind eye.
The redevelopment of the school began in October 2011, after the then standing committee chairman Rahul Shewale, who is now an MP of the area, approved the proposal. As per the 2011 proposal, the contract cost was around Rs11.5 crore.
The structure, which is now ready, has primary and secondary sections of three language mediums – Tamil, Urdu and Hindi. As per a rough estimate, over 4,000 students are enrolled at this school in both shifts – morning and afternoon.
As per an application moved by Farid Hussain, managing trustee of Active Intelligent Movement – a local organisation involved in social activities – with the municipal commissioner Sitaram Kunte, "The BMC is responsible for the violation of law occurred in the school construction. Therefore, the school should be given Occupation Certificate without any hurdles." According to BMC rules, any building should be occupied or used, unless Occupation Certificate is issued.
What the locals are agitated about is that on one hand, BMC is demolishing illegal homes and buildings, while on the other hand, it is spending crores to build unauthorised structures but are ignoring the regularising aspect. Repeated complaints have been made to the concerned departments of the civic body, like M/West and M/East wards officers, deputy municipal commissioner, education department, etc., but none of them have taken efforts to legalise the building.
Deputy municipal commissioner Sunil Dhamne was unavailable for comment on the subject. MP Shewale remained quiet on the issue and did not respond to questions whether he would take up the case for regularisation of the new school building.