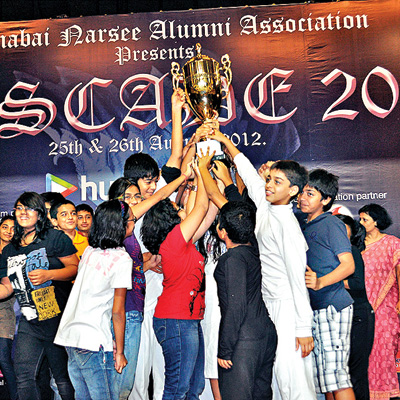 The Jamnabai Narsee Alumni Association's annual inter-school cultural fest, Cascade, aims to reinvent itself in its 22nd edition, which will be held on August 23 and 24. As many as 47 events will be revamped.
The Fine Arts, through the event 'Pop goes my art', will seek to create a pop art painting of a famous personality. The event is a tribute to the late Andy Warhol. For sports enthusiasts, C22 will have Blitz Chess and Kabaddi. And for those who love to speak, there's the three-minute Zabaan Sambhal Ke, where they can make political or social commentary.
C22 has also kept an event that will revolve around the perennial problems of Mumbaikars — littering, honking, blatant refusals from autos and cabs, and other such issues. Titled Quick Fix, it will involve high-school children coming up with solutions for troubles plaguing the city.
With only junk and scrap at their disposal, another event to watch out for will be Junkapella featuring teen musicians.
Besides these, there's Be Kind, Rewind, where dancers must incorporate a staggering eight different dance forms while constantly pausing, rewinding and fast-forwarding their dance, and Advert-i-Sing, which will require popular ad jingles to be performed in three different genres.
"We wanted ideas that match the evolving skill set of today's school student. At C22, we want to reward creativity as much as ability," said Rishab Manghwani, chairperson of Cascade 22.