WHO ropes in dabbawalas to spread awareness about malaria, dengue and other vector-borne diseases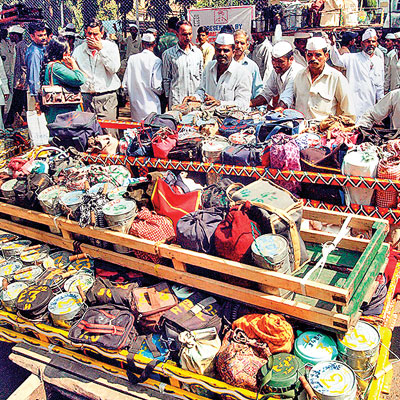 Don't be surprised if you find a cutout of a mosquito dangling from the tiffin box delivered at your workplace. The World Health Organisation has tied up with city's dabbawalas to spread awareness about the dangers of dengue, malaria and other carrier-borne diseases.
Ahead of the World Health Day – on April 7 – WHO aims to send out messages to over 4 lakh users of the tiffin service. The theme for this year is Prevention and Control of Vector Borne Diseases, with the slogan being 'Small Bite:Big Threat.'
"Cutouts of mosquitoes with pointers on simple steps that should be undertaken to curtail dengue and malaria will be attached to tiffin boxes," said Raghunath Medge, president, Nutan Mumbai Tiffin Box Suppliers Charity Trust.
Experts have noted a disturbing trend with dengue cases being reported throughout the year. Earlier, the virus was found to be breeding only during rains. This year, the city has recorded 78 cases so far. Dengue, also known as the breakbone fever, had claimed 11 lives last year.
"With no specific treatment, nearly 20% of dengue cases become complicated. The aedes aegypti mosquito breeds indoors in man-made containers, flower pots, trays etc.," said Dr Mangala Gomare, epidemiologist, BMC.
WHO officials say mosquito-borne viruses are developing resistance to insecticides. "Climate change, environmental temperatures, humidity are allowing insects to breed in places they did not breed before," said Dr Asheena Khalakdina, team leader, communicable diseases, WHO.
Further, the city has seen 1,600 cases of malaria since January this year, with three suspected deaths. Civic officials said last year saw nearly 10,000 cases – a welcome decline from 79,000 cases in 2010.
"However, we will not be complacent," said Dr Arun Bamne, executive health officer, BMC. Nearly 30 people fell victim to anopheles mosquitoes last year.
Other carrier-borne diseases like kala azar, chikungunya, Japanese encephalitis and lymphatic filariasis account for nearly one-sixth of infectious diseases in the world. "Of this, 70% of the victims are from third-world nations. There are nearly 6.27 lakh cases of malaria a year, while dengue has seen a 30-fold rise in the past 50 years," said WHO country representative Dr Nata Menabde.
Sting in the city
Malaria Cases Deaths
2010 79000 145
2011 39000 69
2012 16,086 45
2013 10525 30
2014 1600
Dengue
2011 416 3
2012 1008 5
2013 927 11
2014 78 ----
WHO's lunch box message
Sleep under mosquito nets
Wear light cover clothing that cover the limbs
Screen windows, doors and use mosquito repellents
Remove stagnant water from surroundings
Drain water from coolers, tanks and barrels weekly
Seek early treatment if you have high fever, nausea and bodyache