Allows husband to divorce wife after she took contraceptive pills without his knowledge.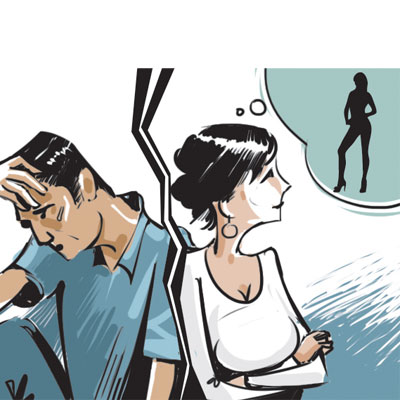 It was a marriage of inconvenience which lasted just 11 months. She was obsessed with maintaining her figure and took contraceptive pills without her husband's knowledge while he was desperate to have a baby.
The family court recently allowed the divorce petition of the couple, saying if a woman does not want to conceive a child after marriage under the pretence of maintaining her figure and for that she takes anti-pregnancy pills without her husband's consent, it amounts to cruelty to the husband. It can be a ground for divorce, the court said.
The couple married in Kurla in May 2011 and lived together till March 2012 before the 25-year-old woman, a service professional, left her matrimonial house. In his petition seeking divorce, the 31-year-old man said: "Since marriage, the husband has experienced physical, mental and psychological stress and strain due to the depressing acts and activities of the respondent and her family members."
The family court held that the husband's allegations were true. "The petitioner (husband) has stated on oath that he wanted to have a baby. However, the respondent (wife) was more concerned with her figure and kept saying that she did not want to become a mother so early. She was taking anti-pregnancy pills without the consent of the petitioner. Believing the version of the petitioner, it is safe to hold that it was the unilateral decision of the respondent not to have a child and this behaviour also caused cruelty to the petitioner," the court said.
The husband, also a working professional, alleged that his wife suspected his character. "She used to make baseless allegations that he was having illicit relations with a girl and even check his mobile phone," the petition alleged. It further said that the woman used to give threats that she would harm herself and implicate the petitioner's family in a false case under section 498A of the Indian Penal Code. Fed up with the harassment and failed attempts at reconciliation, the husband moved court for divorce.
The court issued a notice to the woman, asking her to file her reply. However, she did not respond. The family court then passed an ex-parte divorce order.