Subodh Kumar, former civic chief, says too much negotiation delaying projects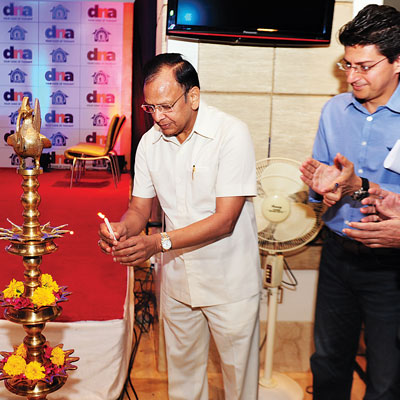 The state government should frame a "dispute-free policy" for redevelopment of buildings, to facilitate the timely completion of these projects, Subodh Kumar, former Mumbai municipal commissioner, said on Saturday.
"The authority should not give any scope for negotiations, as when the tenants start negotiating hard with the developers and the negotiations turn into greediness, it results in dispute between the developers and the society members that delays the project," Kumar said.
He was delivering the keynote address after inaugurating a two- day conference-cum-exhibition organised by dna at Palai Jyoti Banquet Hall, Kohinoor City Mall, Vidyavihar (West).
Kumar told the well-attended gathering that redevelopment was the key to decongesting the metropolis, while providing abundant affordable housing. He pointed out that a large number of cooperative housing societies wanted to redevelop their old buildings, but the success ratio was very disappointing.
"Why is this? And what is it that we need to change? The government, plot owners, developers and residents have to provide answers to these questions," Kumar said.
"If it is a big plot at a prime location, more than one developer will show interest in the project. Then, to get the project the developers will make impractical offers to the housing society. Society members should not run after big offers, rather they should judge whether the developer is capable of delivering on his promises," Kumar elaborated.
"If they start demanding more and more benefits the project will not take off. It will be mired in controversy, causing avoidable delay," he said. Therefore, the need for a policy that will ensure there are no disputes.
The former municipal commissioner explained that the policy should lay down clearly the additional area they must get. "The policy should have safeguards and provisions so that no one is exploited. It should help to execute the project speedily," he said.
Dwelling on the time-consuming procedures for approval, Kumar said developers could submit their plans simultaneously to the civic body, the environment ministry, highrise and other committees. "A developer need not wait for the approved of one department before submitting the plan to another department. All proposals, if properly submitted, should be approved within 60 days," Kumar said.
Boman Irani, chairman and managing director of Rustomjee Developers, Parimal Shroff, practicing lawyer, Ramesh Prabhu, chairman of the Maharashtra Societies Welfare Association and Mukund Godbole, architect, also addressed the seminar.
Irani said trust was very important for any success in a redevelopment project. "Developers and residents must have trust in each other. If there is no trust, no redevelopment can take place. The project will be mired in disputes and controversy. The state government should frame its redevelopment policy in such way that there is minimum scope for disputes," Irani said.
Irani said he observed that housing societies spent a lot of energy on the minor things, losing out on the main deal. "They will focus on the corpus fund, but will not see whether the developer offering a bigger corpus is capable of executing the project or completing it on schedule? We need to see all aspects before entering into an agreement," he explained.
He also cautioned that there would be small twists and turns. "But this is not the end of the project. We have to find practical solutions to problems. The basic right of the resident is to get a new and larger home on time," Irani said.
Parimal Shroff said frequent changes in the policy had confused developers and residents. "Each amended policy gives additional space for residents. So, residents keep looking for a new policy and this delays the project. There should be some concrete decision that remains for a certain period," he said.
Mukund Godbole said residents should know where to stop on their demands. "If they keep demanding a bigger area, more corpus fund and so on, no good developer will want to make a deal. Then the residents would fall into the trap of the small or fly-by-night developers, many of whom do not fulfill their promises. Residents should be more concerned about the completion of the project," he said.