Investors hoping for a price correction after Lok Sabha elections; adopting a wait-and-watch approach
Mumbai's realty market has hit rock bottom. With developers already struggling to sell flats, the upcoming Lok Sabha elections has further thrown a spanner in the works. Investors as well as prospective flat buyers are cautious about putting in their money in the realty sector and are adopting a wait-and-watch approach. This is reflected in the shrinking number of registration of sale agreements in the city.
According to the state's stamp duty and registration department, it registered 21,891 property sales in April 2013, earning a revenue of Rs207 crore. The figure for May 2013 was a little less – 20,892 properties with earnings of Rs201 crore.
The slump in the realty sector is more evident this year. While in January 2014, 20,432 properties were registered, the figure fell to 17,381 in February 2014 – a decline of 15 per cent. In terms of revenue, the amount earned by the state government through property sales fell from from Rs184 crore in January 2014 to Rs165 crore in February 2014.
"It is clearly an indication that the property market is on the decline and it will remain like that till the Lok Sabha election results are out. Most people, including investors, are adopting a wait-and-watch stand," said real estate expert Pankaj Kapoor.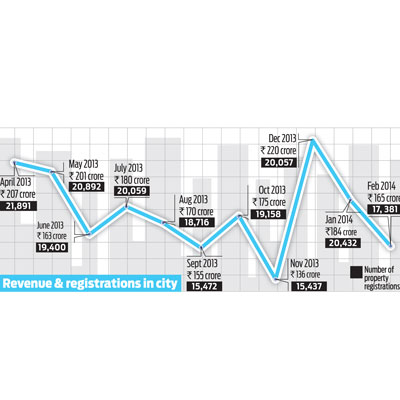 Paras Gundecha, chairman of Gundecha Developers and ex-president of the Maharashtra Chamber of Housing Industry, agrees. He said because of upcoming elections, there isn't enough buzz in the real estate market. "The focus has shifted to the polls. Besides, buyers are expecting a correction in the market. Once the election results are out, property sales are certain to go up," Gundecha told dna.
Manohar Shroff, chairman of Shivam Developers, says the realty market has come to a standstill. "Only emergency and tax adjustment transactions are taking place. Everyone is waiting for the poll results.
People believe that if the BJP comes to power, a 10-15 per cent price correction is likely to happen. Last time too, when the BJP came to power, realty prices fell sharply. This time too, there will be a revamp of policies and speedy approvals with regard to environment clearances in case of a change of government at the Centre. It will help increase the supply, resulting in price correction," he said.
According to Pankaj Kapoor, managing director of real estate research firm Liases Foras, there are several reasons for the downward slide in the realty market. "Affordability is the main issue. The prices in Mumbai are way beyond the reach of the common man. Also, developers are caught in the quagmire of increased ready reckoner rates and high input costs. Developers are finding it difficult to reduce prices because of all these reasons," he said.
Agents brokering property deals too are dissuading buyers from investing in the real estate market till the election results are out. Most of these agents are affiliated with political parties and are busy with campaigning for the elections. Once a clear picture emerges after the conclusion of the Lok Sabha polls, the realty market may spring back to life.