T.K. Anuradha, a space engineer in ISRO, is among those blazing a trail to new frontiers where few women have gone before, says Hemant CS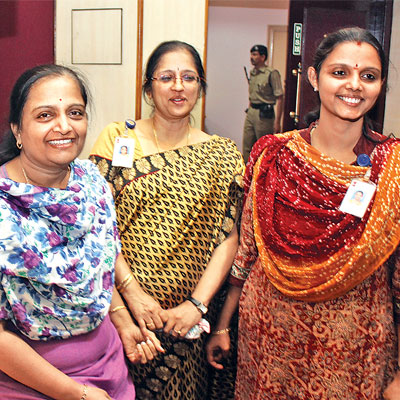 Space, it's the final frontier. With about 25 percent of the Indian Space Research Organisation (ISRO) staffed by women, another bastion goes under, another stereotype is busted. And Bangalore-born T.K.
Anuradha, the first woman to be in charge of a satellite project at India's space agency, is one of those rewriting age-old rules.
As project director of the GSAT satellites, Anuradha, 53, has so far been part of two successful launches of the indigenous communication satellite – GSAT-12 and GSAT-10.
The space engineer created history in July 2011 when she oversaw the launch of the PSLV-C17/GSAT-12 mission from the Satish Dhawan Space Centre at Sriharikota, Andhra Pradesh, as project director.
The next year, in September 2012, she oversaw the launch of the GSAT-10. This heavy satellite was launched on board the Ariane-5 rocket from Europe's spaceport in French Guiana. In the GSAT series, Anuradha has three more satellites scheduled for launch.
She is proud of her achievements but also credits ISRO for its free, fair environment.
Anuradha, who joined ISRO in 1982 after graduating from the University Visweswaraya College of Engineering, says the work culture at ISRO has been a motivating factor. "Around 25 percent of ISRO's workforce is women. There is no gender bias in work or merit everyone is given equal opportunities," she says.
Places like NASA and the European Space Agency may have been enticing but were not considered. "After graduation, 90 per cent of my batch mates went abroad to pursue their careers, but I was not interested, I wanted to be in India… ISRO beckoned and I am proud to be part of it."
Like many, she is also worried about the lack of enthusiasm among young people in science.
"The trend now is towards technology. But science is equally important for the country to move forward," she says.
Anuradha is not alone in her quest for perfection and newer challenges. With her are fellow women scientists like Minal Sampath, a systems engineer who worked on India's mission to Mars, ballistics expert Tessy Thomas who was project director for the Agni V missile and N. Valarmathi, who oversaw the Radar Imaging Satellite (RISAT-1) project.
India's space industry – well, it's blazing new trails.