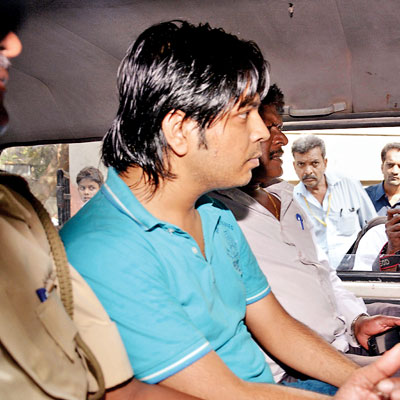 The Versova Police, on Friday, recorded the statements of ten persons in connection with the allegation of rape levelled against Bollywood singer Ankit Tiwari (24) by a 28-year-old woman.
Ankit was arrested on Thursday and produced in Andheri metropolitan court, which remanded him in police custody till May 12. He had allegedly raped the victim after forcing her to consume alcohol at her sister's birthday party on July 21 last year. The party was held at the victim's flat in Andheri. The ten, whose statements were recorded on Friday, were those that had attended the party.
After allegedly getting her drunk, Ankit took her to the bedroom and raped her. After the incident, he reportedly promised to marry her, which he never did. But, both of them continued to be in touch with each other.
Last August, when Ankit went to the victim's house, she and her female friend, who was present there, raised the issue of marriage. He then reportedly applied 'sindhur' on her forehead in front of the family deity's photo. However, he declined to register the marriage. When the woman realised he was not keen on marrying her, she lodged a police complaint. She is a divorcee with an eight-year-old daughter.
"The victim has alleged that a few months ago when she insisted on marriage Ankit threatened to circulate obscene videos of her. She also said Ankit had been aware of her past before they got into a relationship" said police inspector Subhash Vele of Versova station.
"We have seized Ankit's mobile phone and are taking the help of the cyber crime cell to ascertain whether he had indeed recorded any obscene videos of the victim and had deleted it later," Vele said.
However, during interrogation Ankit told the police that he was in a relationship with the victim but that she had never told him about her previous marriage or her daughter.
According to the police, the complainant, who is an event manager and also the president of a private firm, had got divorce from her husband a few years ago.
Ankit's elder brother, Ankur, who was also arrested on Thursday for alleged criminal intimidation, was released on bail on surety of Rs 15,000.