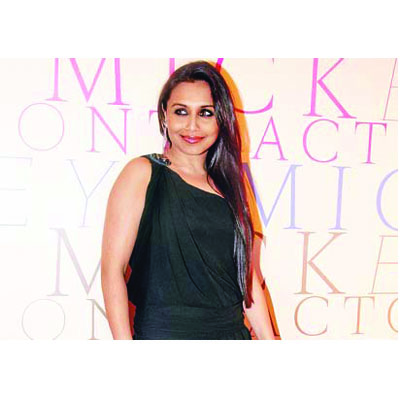 She has been criticised and praised for her films. She took the criticism in her stride and survived it.
After doing her first film, Raja Ki Aayegi Baraat, which was not very successful, she bagged a supporting role in Kuch Kuch Hota Hai with Kajol and Shahrukh Khan. She won the Filmfare award for the Best Actress in supporting role for the film. Many of her films failed to impress the audiences and critics. The graph of her success in Bollywood has been unbalanced. But she has given some of the powerful performances in Bollywood and has had her share of fame as the reigning 'Queen' of Bollywood.
As Rani Mukherjee turns 36 today, we take a look at her career graph that has seen a lot of ups and downs.
After Kuch Kuch Hota Hai, her films didn't do well for some time. In 2002, she bagged a role in Yash Raj Films' Saathiya, which impressed the audience and critics. After Saathiya, many of her films did well at the box office. She played the role of a blind and deaf girl along side Amitabh Bachchan who was her teacher in Black.
The film was praised by the critics and was screened at two film festivals. It was also placed on number five in Time Magazine's 10 Best Movies of the year 2005 across the globe. Black also won a Filmfare award in the Best Film category.
Another successful film that she acted in was Hum Tum, which was a romantic comedy. After Hum Tum, she proved her mettle yet again in Maniratnam's Yuva, which was a partly a political drama and partly based on hyperlink cinema, a term that was popularized in 2005. She played the role of Abhishek Bachchan's wife, who loves and abuses her at the same time. She played the role of a Pakistani lawyer in Veer Zaara with great aplomb.
She has proved her versatility by playing the role of a journalist in No One Killed Jessica. Post this her career again witnessed a lull and she returned with Aiyya as her comeback film, but the film disappointed the audiences. However, she managed to regain her position with Talaash: The Answer Lies Within, where she played Aamir Khan's wife and a mother who lost her son in an accident.
Recently, Rani Mukherjee was in news when she was spotted in South Delhi shooting for her upcoming film, Mardaani, with Yash Raj Films.
Rani Mukherjee's Top 5 songs:
Jee Le Jara - Talaash
Chupke Se - Saathiya
Kuch Kuch Hota Hai - Title
Ladki Kyun - Hum Tum
Kabhi Neem Neem - Saathiya
Rani Mukherjee's Top 5 performances:
Saathiya-2002
Yuva-2004
Black-2005
No One Killed Jessica-2011
Aiyyaa-2012