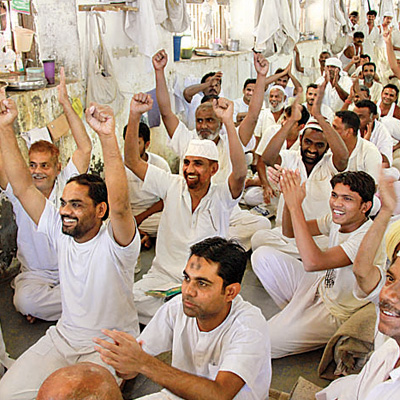 Undertrials have got a beautiful gift this Ramzan. The special Maharashtra Control or Organised Crime (MCOC) Act court presided over by judge G T Kadri, recently allowed them to break their fast with home-cooked food this month.
The court was hearing an application filed by 19 of the 22 accused involved in the Aurangabad arms haul case. In their application, the accused had maintained that for the past eight years, the special courts had been allowing them to take food cooked in their homes into the prison to break their fast during the month of Ramzan and Bakri Eid. The application was opposed by the special public prosecutor quoting jail manual rules.
"According to the applicants, the period of fasting (Roza) will start from 4.14 am, which is well before dawn and continues even after sunset, which is till 7.20 pm. Thus, the period of fasting would be about 15 hours. By going without food and water such a long period, the body's metabolism becomes slow and can cause dehydration. In such circumstances, to recoup the loss sustained by the body and to maintain the level of sugar and hydration, drinks and high intake of protein are necessary," read the order.
While allowing the application, the court maintained that Muslims usually broke their fasts with such food (non-vegetarian dishes and soft drinks), due to which they would be allowed to get home food from their relatives and friends during Ramzan.
Recently, another court which is conducting trials in the 2013 Pune's Junglee Maharaj blast case had rejected a similar application filed by six accused on grounds that it would be difficult for the jail superintendent to make arrangements for the same, and prisoners from other religions might file similar applications during their respective festivals.