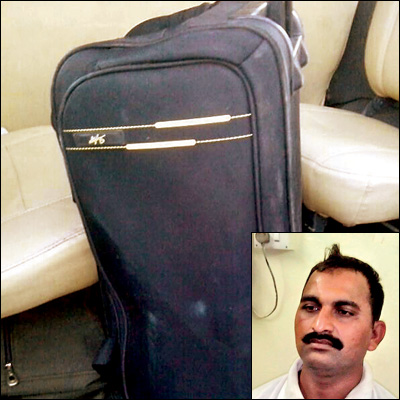 Police commissioner Rakesh Maria on Monday claimed that the Esther Anuhya murder case has been "solved". However, Esther's father, SJS Prasad, is sceptical about it. Prasad, who watched a live telecast of Maria's press conference, picked several holes in his claim.
Maria told the media that nine teams were formed to track down the murderer and, between them, they questioned about 2,500 people and scrutinised 36 CCTV clips recorded at Kurla terminus from January 5 and eight days before that. The clips showed Esther leaving with an unknown man.
"The strenuous and painstaking efforts by a special team led us to the accused, Chandrabhan Sudam Sanap aka Chowkya, 28, a resident of Kanjurmarg, who has a criminal record of mobile phone and bag thefts," he added. The police zeroed in on Sanap after comparing his photos from police records with the face captured on CCTV.
A drunk Sanap had come to Kurla terminus at 4.15am with the intention of robbing passengers.
Maria said Sanap posed as a driver, assuring Esther that he would drop her home in Andheri for Rs300. Sanap told her that they would go on his motorcycle. When Esther expressed her reservation, to convince her, Sanap asked her to note down his bike and mobile phone numbers and give them to her relatives.
"As she had no balance left in her phone, she pretended to make a few calls to her relatives," Maria said.
Prasad, however, told dna that his daughter was intelligent and would never have gone on motorbike with a stranger, that too one smelling of alcohol. Prasad said her handbag weighed about 10kg and her backpack 6kg and, hence, it was highly improbable that she would have travelled on a bike with all this luggage. Also, her mobile phone had two SIM cards. So, even if the balance in one SIM was over, she could have used the other one, he said.
Prasad said, "I spoke to her at 9.30pm on January 4 and she never told me about being short on talktime. She only said her phone needs to be charged, which she did."
"She had travelled on motorbikes only with her batchmates and that too for short distances. Instead of riding with an unknown person, she would have preferred to wait till daylight. All these questions need to be answered," he added.
Maria said that after tracing Sanap to his home in Kanjurmarg, he was taken to Nashik. "Sanap told us that he had given Esther's bag to a beggar there saying his wife had died and he was disposing of her belongings. The bag has been seized," he added.
However, Prasad, who has been sent a photo of the bag, said that unless he personally inspects it, he can't conclude it belonged to Esther.
Maria said after Sanap made Esther sit on the motorcycle, which belonged to his friend Nandkishore Sahu, he took her to Tilak Nagar, Sahakar cinema, EE Highway and then to the service road in Kanjurmarg.
After claiming that the bike was out of petrol, he allegedly took her to the bushes and tried to sexually attack her. When Esther resisted, he allegedly banged her head thrice on the ground and strangled her with her dupatta. He also allegedly tried to set the body on fire with petrol from his bike, but, soon, fled with her belongings.
Later, he called Sahu and told him about the crime. Afraid that Esther must have given his number to a relative, Sanap returned to the murder spot looking for her cell phone but couldn't find it. (The phone was later recovered by the police). Sanap then fled to Nashik in a lorry, Maria said.
The police have brought Sahu from his village in Jharkhand.