Sporadic incidents mar toll protest as people stayed indoors, vehicles remained off the roads.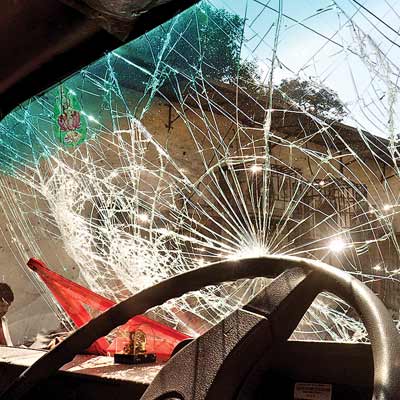 Maharashtra Navnirman Sena's toll protest caused a loss of crores to the state in lost business as commuters and tourists remained indoors, buses didn't ply and truckers didn't move from godowns. Rough estimates from transport and tourist bus owners, agents, etc showed that the protest cost the state exchequer a loss of nearly Rs 4,000 crore.
Iqbal Mulla, president of Travel Agent Association, told dna on Wednesday that most tourist companies had decided not to ply their vehicles. "The loss could be estimated at Rs 3,000 crore. Although we did not support the toll protest, it is a serious issue and needs to be resolved," said Mulla.
Bal Malkit Singh, secretary of Bombay Goods Transport Association, which supported the MNS protest, said. "We want to abolish this cancer-like toll, which is slowly killing our transport industry. Nearly 27 lakh vehicles ply across the state. The loss could run into nearly Rs 700 crore. We are ready to bear this loss, but there should be a solution for the hefty toll charges," said Singh.
Besides transport services, most shops and commercial establishments too remained shut for the day. Owners kept their shutters down out of fear of vandalism by MNS activists. At some place, private car owners too chose not to take their vehicles out for fear of their cars being damaged. The fear psychosis also ensured that a lot of people stayed at home. Even corporate houses has issued advisories to their employees asking them to stay away from protest areas and avoid coming out unnecessarily.
All these factors added up in ensuring little or no traffic on roads and empty train rides. Panvel businessman Santosh Ingale, who had a meeting in Sweri, had assumed there would be bumper-to-bumper traffic on the road and was serendipitous when he had a joyride instead. "I was sure that either I would have to delay my meeting or cancel it at the eleventh hour. But I was amazed to see near-empty roads. There were fewer autos and taxis. I reached for my meeting much ahead of the scheduled time," said Ingale.
Thane resident, Kailash Patil, who takes the train daily, said, "The local trains are always overcrowded and I have to squeeze through. But on Wednesday, I had a comfortable commute and even got a seat. But at the same time, I was afraid of MNS thugs," said Patil.