Sena leaders said Raj deliberately maintained distance as he was no longer with the party.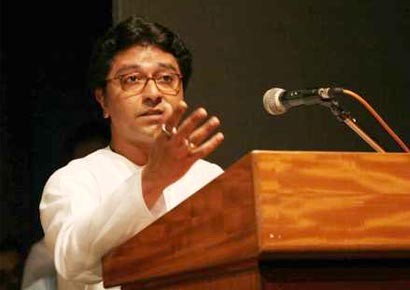 Raj Thackeray's absence from the truck carrying Bal Thackeray's body has set tongues wagging. While most of the Thackeray clan — Uddhav, his wife Rashmi, their sons Aditya and Tejas, Smita (Uddhav's brother Jaidev's wife) — and Shiv Sena leaders Aadesh Bandekar and Milind Gunaji, were on the truck, Raj and his wife Sharmila walked behind the vehicle. Raj even went home before attending Thackeray's funeral later in the evening.
Sena leaders said Raj deliberately maintained distance as he was no longer with the party. "Though Raj and Uddhav are cousins, they lead rival parties. Apart from family ties, they also need to consider the future of their parties. This could be the reason for Raj not getting onto the truck. It was in the interest of both the parties," a Sena leader told DNA.
Raj was also not among the pallbearers when Thackeray's body was brought out from his residence, Matoshree, and kept on a make-shift stage outside his home. The body was brought by Uddhav and other Sena leaders. Raj came out of Matoshree 10 minutes before the body was brought out and was seen inquiring about arrangements for the funeral procession.
A Sena leader said the party still holds Raj responsible for hurting Thackeray in his last few years. "Raj's decision to quit the Shiv Sena deeply hurt Balasaheb. Sainiks feel that was the reason he was not even allowed to address the media on Wednesday night when Balasaheb's health deteriorated," he said.
The MNS, however, said one should not read too much into what happened. "Raj walked with the funeral procession except for an hour as he was feeling uneasy. He later came to Shivaji Park and overlooked the arrangements for the last rites," said party MLA Nitin Sardesai.
No bandh: Shiv Sena
Shiv Sena spokesperson Sanjay Raut said the party has not called for a bandh on Monday. Sena MLC Neelam Gorhe said some traders' associations have announced a shutdown themselves.