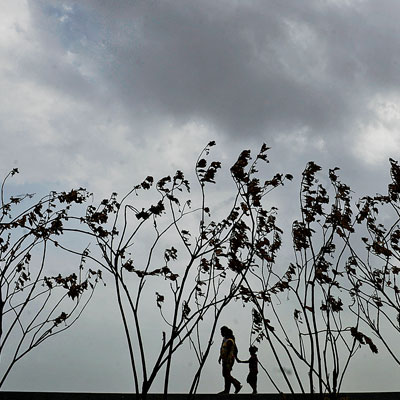 Respite to Mumbaikars from humidity and sweltering heat was short-lived as rains have eluded the city yet again. After the Met department declared arrival of southwesterly monsoon last Sunday, it's not before June 22 citizens can expect the skies to open up. Till then, temperatures in the island city and suburbs are likely to soar up to 33 degrees Celsius during the day, they said.
"The monsoon currents are looking weak. They are yet to pick up pace. It does not rain uniformly over the four months of the monsoon season but the weather alternates between strong and weak phases," said VK Rajeev, director, Indian Met department.
The season's total rainfall for Colaba has been 54.3 millimeters and 86.6 millimeters in Santacruz. The deviation in rainfall from normal is massive. In Colaba, the shortfall is 217.7 mm, while the figure for Santa Cruz is 158.6.
Met officials said monsoon this year has been the worst ever. Last year after June 16, the city had come to a standstill due to heavy rainfall for three consecutive days, seriously affecting services of the Central Railway. The BMC had also advised citizens to venture outdoors only if it was absolutely necessary.
Met officials said monsoon is likely pick up after a day or two. "The current systems take time to form. It is a wait and watch situation," said Rajeev.
In Maharashtra, while most regions like Thane, Pune, Mumbai, Nagpur, among others have witnessed scanty rainfall till June 11, Dhule, Sangli and Goa have had heavy downpour since the onset of the rainy season. The offshore trough extending from South Gujarat to North Kerala is feeble, stated the weather officials.
The humidity levels is expected to remain between 75% and 95%.
Maharashtra is looking at a possibility of a weak monsoon and in case the monsoon does not pick up by June-end, there is a likely possibility of water cuts for non-essential activities. Though the municipal corporation has assured that there is enough water in the five lakes, which supply water to city, to see the city through end of July, it is anticipating that it rains enough so lake levels may rise.