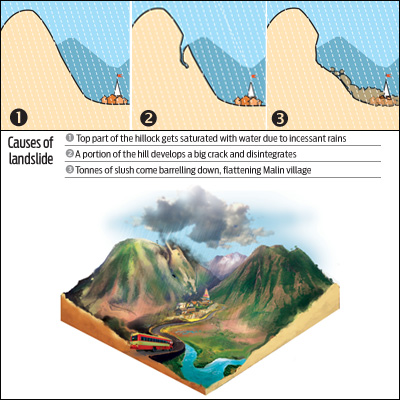 Rescue operations were going on at a snail's pace at Malin village near Bhimashankar even as the government rushed disaster response teams to the landslide-hit spot by Wednesday afternoon. At the time of going to press, a team of doctors from the Maharashtra Emergency Medical Service had reached the site to treat the injured.
Why is it a daunting task?
Malin is about 100 km from Pune on way to Bhimashankar. The remote village is situated at a hilltop and can be reached through a narrow winding road with Dimbhe dam on one side of the road and a valley on the other side. In the absence of an alternate route, vehicle were stuck bumper-to-bumper over a length of 12 km. This delayed movement of rescue workers and ambulances.
When did rescuers reach site?
After being alerted about the disaster, the National Disaster Response Force (NDRF) despatched a few teams to the spot. It took more than five hours for the teams to negotiate through the hostile stretch and reach the slide-hit village. Incessant rains compounded their problems. When the teams realised the extent of the damaged, more teams were sent to the spot.
How will the rescue continue?
Resident deputy collector Suresh Jadhav said, " It will take at least two days for the rescue work at Malin village. It is an hilly area and it was very difficult for the rescue teams to reach the spot." Speaking about the operation, Jadhav said they were informed about the calamity about 8 am, but they don't know the exact time when the cascading slush hit Malin. The rescuers are using flood lights, generators, masks, pneumatic lifting bags, hydraulic spreaders and cutters to extricate those trapped.
What medical help is being provided?
The MEMS 28 ambulances along with doctors and medical staff to Malin village. The team is equipped is necessary equipment and medicines to deal with such a situation. They have set up camps and are treating the injured on the spot and trying to save as many lives as they can, said an official.