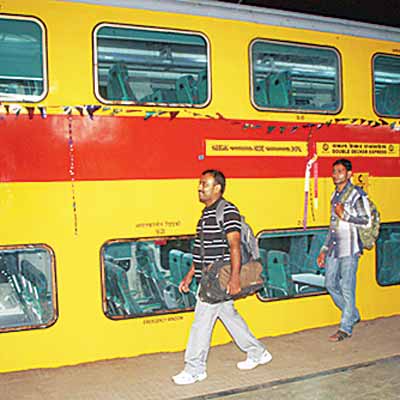 The railways, as reported by dna on April 12 edition, has announced its entire premium train armoury on the money-spinning Mumbai-Goa route on Wednesday. This includes the first ever double-decker service on the route. The service was first envisaged a little over a year ago.
The services
On Wednesday, the railways announced 20 trips of the double-decker train between Kurla LTT and Karmali in Goa and another 20 trips of the Shatabdi between CST and Karmali. All these trains will be part of the railways' premium concept where fares are controlled by market forces of demand and where booking of tickets is allowed through the internet.
The double-decker service will have 10 trips between Kurla LTT and Karmali on August 22, 24, 26, 28, 30 and September 1, 3, 5, 7, 9 with halts at Thane, Panvel, Chiplun, Ratnagiri and Kankavli. The return leg from Karmali to Kurla LTT will be the following day, said CR officials.
The Shatbadi will have ten services from CST to Karmali on August 23, 25, 27, 29, 31 and September 2, 4, 6, 8 and 10. The return leg would be on the following day. This train will halt at Thane, Panvel, Chiplun, Ratnagiri and Kudal, said officials.
Market-controlled fares
Earlier on August 11, the railways had announced the first set of 6 premium AC trains between Mumbai and Karmali, taking the total of special premium trains on the route announced so far to 46.
"This is the most comprehensive deployment of air-conditioned trains to tap the massive rush during the Ganpati festivities on the Mumbai-Goa route. All the trains being premium market-controlled fare trains, we will get a fair idea of how much the railways can earn if we deploy our resources properly on heavily-patronised routes," said a senior CR official.
"On several routes, the lack of tickets on the railways has given a boost to the bus sector which charge exorbitant fares during such times. The railways has planned to take such sectors head on. A double decker train can easily take the load of at least 25 buses. This experiment will be repeated in other sectors as well depending on the results this time around," said a CR official.
Ganpati rush
The Ganpati rush hit the national headlines some time ago when on June 29, tickets on the Konkan Kanya Express for August 28 — the starting day of Ganpati festivities — were sold out 57 seconds after it opened at 8am. A subsequent investigation by the railways showed that more than touting, it was the phenomenal rush for tickets that brought about this situation.