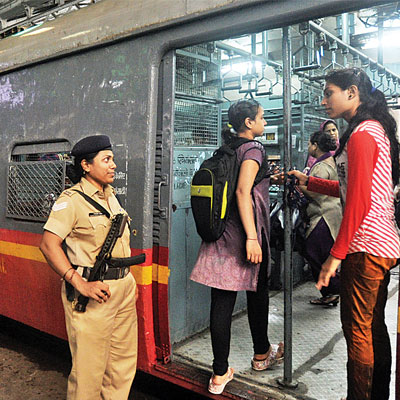 The Modi-led BJP govt's maiden railway budget has drawn flak from its ally, the Shiv Sena, which has pointed out that it had little for the people of Maharashtra.
Shiv Sena said the budget had neglected new routes conceived long ago, but had been put on the back-burner. The party also lamented railway minister DV Sadananda Gowda not announcing any big-ticket infrastructure project for the state.
It was expected that with the assembly polls due later this year, the budget would have some major announcements for the state, especially for the city's over seven million suburban railway commuters who brave the inadequate facilities despite the recent ticket rate hikes.
Sena, which has 18 MPs in the Lok Sabha and one representation (Anant Gite) in the Union council of ministers, and BJP are already involved in an eyeball-to-eyeball confrontation over sharing of seats in the assembly polls.
"I disapprove of Pune-Nashik railway line (conceived 10 years ago) and Kalyan-Ahmednagar route not finding a mention in the budget. These are profitable projects in which the state was willing to contribute 50% of the cost, and the return on equity was 4%. Even then they have not been considered," charged three-term MP from Shirur (Pune dist) Shivajirao Adhalrao Patil.
"Maharashtra needs more railway projects and increase in frequency of trains," he added, demanding that the state should get major rail projects like engine and coach factories.
Adhalrao, however, welcomed the decision to increase the number of rail coaches for the state and provision for new trains from Mumbai and other regions of Maharashtra.
"Mumbai has a typical topography, hence adding to the existing infrastructure like new lines would necessitate land acquisition and demolitions, something that will lead to dispossession and local resistance.
We need to think of underground/elevated rail routes on the lines of the proposed Colaba-Bandra–SEEPZ Metro railway to ease the pressures on existing rail network," said another Sena MP.
Former Union minister of state and Amravati MP, Anandrao Adsul, said the budget was "comprehensive" and welcomed the new trains linking pilgrimage centres like Pandharpur in Maharashtra, and an additional line between Bhusawal and Wardha.
"This is a budget which differs from conventions," he said, pointing to the proposed bullet and high-speed trains and foreign direct investment (FDI) and public private partnership (PPP) in capacity addition.
Gajanan Kirtikar, Shiv Sena MP from Mumbai North West, welcomed the decision on FDI and PPP, which he said would provide railways financial support. Eventually these measures would reverse the years of accumulated losses due to decisions taken by the Congress-led regimes. Earlier we were moving around in circles," he added.