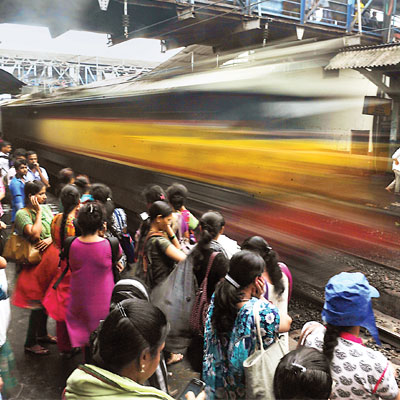 When railways minister Sadananda Gowda announced '864 state-of-the-art EMUs (Electric Multiple Units)' for Mumbai as part of his budget, it may have seemed that he had promised us the moon. However, the grand announcement was not just a major slip-of-tongue but also not a new package. It was nothing but a reference to the 72 Bombardier trains planned in 2011, whose supply to Mumbai is already delayed.
The truth is that Gowda meant 864 EMU coaches and not EMUs, or full rakes. A figure of 864 full-scale EMUs would be an absurdity because between the Central and Western Railways, the total fleet would comprise 190-odd rakes. Getting four and a half times more trains in one go in a single budget would be, as one official put it, 'a delusional dream'.
That is not all. The 864 EMU coaches the railway minister spoke of, is a stale project plagued by delays. Currently, 72 Bombardier-powered trains are being built for Mumbai at the Integral Coach Factory (ICF) in Chennai. The tenders for these trains were first placed in December 2010, and the bids won in the middle of 2011. Since then, the project has been pushed back several times.
"Each of these 72 trains will have 12 coaches, hence 864 coaches. Currently, two of these rakes are being tested on central railways before being deployed by the western railways. That means 24 of these 864 coaches are already here in Mumbai," said a railway official.
The bad news is that the production of the remaining 70 rakes has been delayed. In its May 19 edition, dna had highlighted how the production schedule of these trains was scaled down as the railway ministry wanted the ICF-Chennai to look at other projects as well. This meant that the wait for these new trains will be longer. Now, the last of these 72 trains will come in 2017 as against the earlier deadline of 2016. According to officials, while the ICF-Chennai initially planned to make 24 of these Bombardier rakes by the end of March 2015, the production scaledown means the ICF would be turning in around 10 to 12 of these rakes by March 2015.
The latest production schedule of the ICF for the new rakes, according to officials, is such that by March 2015, some 12 rakes will be ready. Between April 2015 and March 2016, the ICF will be using its full capacity of 4 rakes a month to turn in 48 rakes. The remaining 10 to 12 would come by the end of 2016 or in the first few months of 2017.