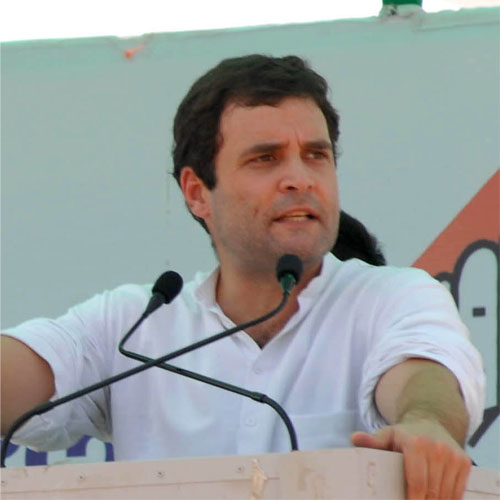 After an embarrassing performance in the recently concluded assembly elections where the Congress lost four out of five states to BJP, Congress scion and vice-president Rahul Gandhi is now looking to the youth to enthuse energy into the 128-year-old party, which is fatigued and struggling with problems such as in-fighting. To engage the youth with the party, Gandhi has now sought their views and demands on education policies
Their suggestion will find a place in the party's manifesto for the 2014 general elections. This not only aims to make the Congress manifesto more "inclusive", but also aims to make the party more appealing to youngsters below 25 years of age, who form over 50% of the population.
All state units of the National Students Union of India, the student wing of the Congress, have been mobilised to collate the demands of students across India. A special website, Facebook page, mobile number and twitter hashtag has been launched considering the large social media population. After shortlisting the crucial issues, the NSUI will submit the 'student manifesto' to Gandhi in the third week of January.
Rohit Chaudhary, national president of the NSUI who was in Mumbai on Saturday to launch the initiative in Maharashtra, told dna, "The Congress has given the responsibility of its manifesto to the citizens of this country. As Rahulji has promised, policy-making will not be limited to 10 people. Every student is invited to give his or her ideas to reform the education system."
After the recent poll results, Rahul Gandhi had admitted that would have to learn from the success of the Aam Admi party, for whose victory the student segment was largely responsible. He had also said, "We are going to involve them in a way you can't imagine."
A Congress leader said, "It seems he has started working on this, but it's too little and too late." Agreeing with the sentiment, a student said, "Promising youngsters something is one thing and delivering on that promise is another. The Congress has been poor on delivery. I don't think the youth would be inspired with the manifesto drama."
Students have already started giving their suggestions to Gandhi. Chaudhary said, "Some students have asked that the scholarships should be given to all poor students irrespective of their caste and religion. Some want job opportunities in small towns. All these points are very important and have pan-India impact."