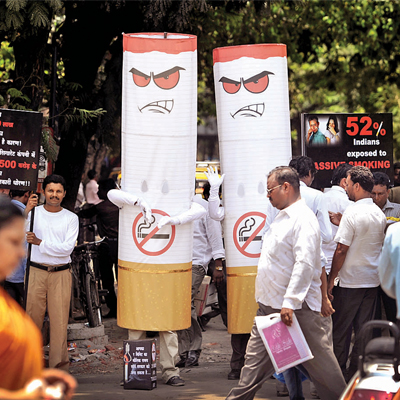 "It's easy to quit smoking. I have done it many times."
This quote attributed to the famous American author, Mark Twain, as well as comedian WC Fields, sums up the addictive nature of tobacco.
According to a recent survey, 9 of 10 smokers do try to quit smoking, but do not succeed because of its strong addiction. Doctors say apart from strict laws to control tobacco usage and undertaking awareness campaigns on its harmful effects, the city also must have strong cessation centres.
Dr Pankaj Chaturvedi, professor, head and neck department, Tata Memorial Hospital, said: "Cessation needs to be a specialisation. Abroad, there are trained professionals, but in India there aren't many. Our medical colleges do have have cessation centres, and not all people approach public hospitals for help."
The Global Adult Tobacco Survey (GATS) 2010 says 31.3% of current smokers and 29.7% users of smokeless tobacco, plan to quit or have thought of quitting.
Dr Chaturvedi added that tobacco users should begin to think of quitting. Apart from government initiatives to put in place tobacco cessation centers in hospitals, the Indian Dental Association, through its Tobacco Intervention Initiatives (TII), has been training dentist on tobacco cessation. These centres operate throughout the country. Tobacco users only have to avail the recommended therapy for quitting.
Similarly, many non-governmental organizations like Salaam Bombay Foundation have started special counselling services for helping smokers to kick the habit.
"Doctors too can pitch in by having a two-minute talk with their patients. Unfortunately, that doesn't happen. Studies have shown that when a doctor counsels a patient who approaches him/her with some problem, a two-minute counselling would help the person quit the habit," Dr Chaturvedi said.
As per data based on a study conducted by Public Health Foundation of India with Ministry of Health and Family Welfare and World Health Organization, released by Dr Harshavardhan, the Union health minister, the government of Maharashtra is losing more than Rs 7,000 crore annually on health care alone due to tobacco.
Tips for quitting tobacco
Quit cold turkey. In the long run, it's the easiest and most effective way. Do not carry any smokeless tobacco product with you. Just quit smoking one day. Do not decide to quit tomorrow or next week. Concentrate on not taking tobacco from the time you wake up till you go to sleep. Plan a short-term goal and take steps in that direction.
Work on developing the attitude that you're doing yourself a favor by not consuming tobacco. Do not feel you're depriving yourself. Be proud that you're tobacco free, and you have made a first step in breaking the cycle.
Be aware that many routine situations will trigger the urge to smoke. Situations triggering response include: drinking coffee, alcohol, sitting in a bar, social events with smoking friends, card games, end of meals, etc. Try to maintain your normal routine while quitting. If any event seems too tough, leave it and go back to it later. Do not feel you must give up any activity forever. Everything you did as a tobacco user you will learn to do at least as well and maybe even better, as an ex-user. Practise the Four 'D' approach: Delay the urge; Distract yourself; Drink water; Deep breathing exercise. It will help you to handle the triggers well.
Make a list of all the reasons you want to quit tobacco. Keep it with you, preferably where you used to carry tobacco. When you lose your motive and feels an intense urge, think of the list and benefits. Drink plenty of fruit juice the first three days. It will help flush nicotine out of your system.
To help avoid weight gain, eat vegetables and fruits. Celery and carrots can be used as short-term substitutes for cigarettes. If you are concerned about weight gain, do some moderate form of regular exercise. If you have not been exercising regularly, consult your physician for a practical exercise programme. If you encounter a crisis, (flat tyre, flood, blizzard, family illness) while quitting, remember, tobacco is no solution. Tobacco will only complicate the original situation while creating another crisis, a relapse into nicotine addiction.
Consider yourself a 'tobacco free'. One single re-use and you can become hooked again. No matter how long you have been off, don't think you can safely take just one puff and get away! Don't debate with yourself how much you want it. Ask yourself how you feel about going back to your old level of consumption. Save the money you usually spend on buying tobacco and buy yourself something you really want. Tell people around you that you have quit tobacco.
Fact sheet
Tobacco is the only consumer product that has no good use except causing death and disability.
At current rates of consumption, one billion people will be killed in this century because of tobacco.
In India, there are 27.5cr tobacco users, that is, every third Indian adult uses some form of tobacco.
Tobacco kills every third user prematurely.
It's responsible for nearly 50% cancers in India.
As per WHO, tobacco addiction is a disease.
About 10 lakh Indians die from tobacco-related diseases each year. This epidemic kills more people than tuberculosis, accidents, homicides, suicide, AIDS and malaria combined.
Among kids (age 13-15), 4% smoke cigarettes and almost 12% use other types of tobacco products.
Revenue from tobacco is significantly less than the loss from tobacco in form of death, disability and diseases.
It's the number one cause of preventable death among youth.