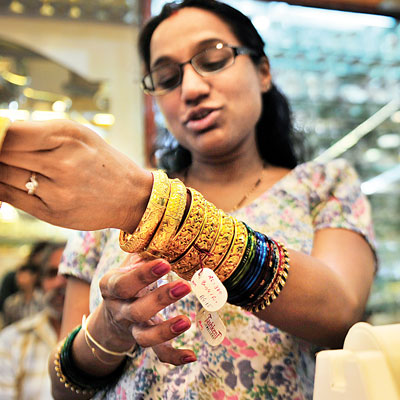 Vishwas Sawant, a resident of Mulund, planned to buy a mobile phone for Friday. "Being an auspicious day, I thought I will buy it today," said Sawant. Like Sawant, many others too made sure that they made some kind of purchase on Akshay Tritiya day.
Considered to be auspicious, it is observed by Hindus and Jains. It is said that deeds done on this day have a lasting effect and hence people wait to ensure that they buy or execute any good decision on this day. While Hindus mostly indulge in purchases and charitable deeds, Jains break their year long fasts.
Jewellery that is next on mind was purchased by a number of people but fell short of purchases as compared to last year.
"As compared to any given day, the purchase of gold and silver bars was 15-20 times for today but the sale was less as compared to last year by 30 per cent. This was because of the premium price in the international market," said Prithviraj Kothari, vice president of Bullion Market Association (BMA).
While jewellery sales were less comparatively, the day that is observed by Jains for breaking of their fast saw enthusiastic community members lining up for the programme. A number of people had come to visit the breaking of Varshi tap fast in Ghatkopar. "From spiritual point of view, this fast is important. It helps you connect with god and understand how the body is unimportant," said Amrutlal Gala, who was breaking his fast at Ghatkopar.