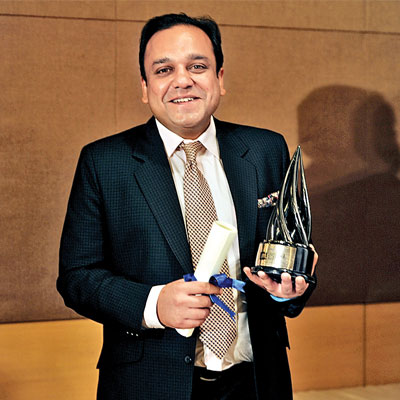 Adding yet another accolade to his list of achievements, Zee Entertainment Enterprises (ZEEL) managing director and CEO, Punit Goenka, won the media person of the year award instituted by the International Advertising Association (IAA). He was chosen for the award as a recognition of his contribution to the media.
In its second edition, the IAA leadership awards are IAA India chapter's way of recognising excellence across advertising, media and marketing industries. The awards were presented by B L Joshi, the governor of Uttar Pradesh, at a ceremony in Grand Hyatt, Santacruz, on Saturday.
"It's a pleasant surprise as I hadn't expected it. I am glad the industry recognized my team's effort. Hopefully, we will be number one soon," said Goenka.
A graduate from Mumbai University, Goenka began his career with the Essel Group and ever since, has been contributing to the media industry through Zee media. "We have always spearheaded the media industry in the country and will continue with our innovative traits in everything from content genre to DTH to ensure that we remain in front. Our contributions to the industry will go on," said Goenka.
Among the 21 other winners, who were hand-picked by a two-stage selection process, were Shah Rukh Khan and Priyanka Chopra (brand ambassadors of the year), and Nitin Paranjpe (CEO of the year). He was until recently the CEO and managing director of Hindustan Uniliver.
Srinivasan Swamy, president, IAA India, and chairman R K Swamy BBDO, said: "While management is about doing things right, leadership is about doing the right things. Today I extend my heartfelt congratulations to all the winners who have outdone themselves this year, as well as every nominee for showing what leadership is."