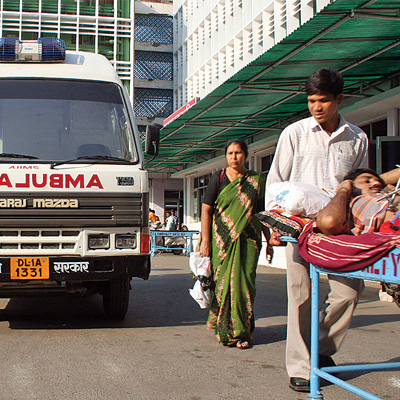 Even as finance minister Arun Jaitley suggested in his budget speech on Thursday that every state in India should have an All India Institute of Medical Sciences (AIIMS), experts here in the city said it would take at least another five years for the proposed institution to come up in Vidarbha in the state.
The Centre had turn down the state's request for setting up an AIIMS-like institution in 2012. Apart from the one in Delhi, five AIIMS became functional last year—in Patna, Rishikesh, Bhubaneshwar, Bhopal and Raipur.
"An AIIMS like institution for Vidarbha is a long haul. The five AIIMS that were proposed by the UPA six years ago, saw the light of day only recently, and they are still not fully functional," said Ravi Duggal, a city-based senior public health expert.
Jaitley has proposed setting aside Rs 1,906 crore in capital and Rs 600 crore in revenue expenditure for AIIMS institutions.
"Apart from upgrading the existing institutions, these funds will be earmarked for setting up new institutions as well as upgrading 18 hospitals across the country, which means that the four new institutions, proposed for Vidarbha, Purvanchal, West Bengal and Andhra Pradesh, may get an initial allotment of Rs 50 crore each from the capital expenditure," observed Duggal.
AIIMS New Delhi, which has an annual functional budget of Rs 1,365 crore, sees 10,000 patients thronging its vast corridors every day. The five other functioning AIIMS are only half the size of the Delhi AIIMS.
"They will require an adequate funding and requisite manpower to function properly," said Duggal.
Merely announcing that AIIMS and 12 medical colleges will be opened will not solve the health care issues of the nation, said experts.
"Increased GDP allocation on health care will make good health care services almost affordable to the lower income groups," said Amol Naikawadi, managing director, Indus Health Plus. Currently, only 1 per cent of the total GDP is allocated for health care, which means that only 1 per cent of the national income goes towards health care spending, whereas WHO recommends that at least 5 per cent of the GDP should be spent on upgrading health care.
Prices of cigarettes set to rise
Excise duty on cigarettes has gone up from 11% to 21%; WHO recommends levying 65% tax on cigarettes.
In India, 22% of the population chews tobacco, 6% smoke cigarettes and 3% bidis. Doctors rue taxes on bidi not being raised.
Cigarette price hike will see each Rs10 stick going up to Rs 15–16. A pack of 20 cigarettes, which now costs close to Rs 200, will cost up to Rs 300.
Excise duty on pan masala is proposed to be increased from 12% to 16%; on unmanufactured tobacco to 55% from 50%, and on Gutka and chewing tobacco to 70% from 60%.