The western suburbs just got a little lighter as media professional Shreya Naik urged people to let go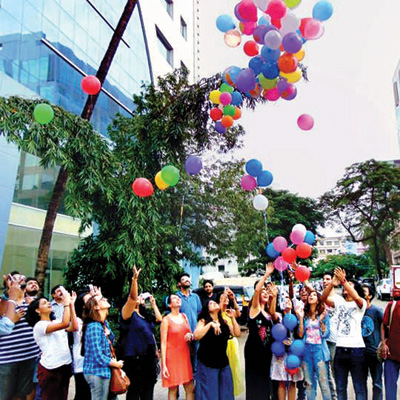 INTRO:
Hosted at a popular club in the suburbs—friends, family and more curious souls flocked in to pen down the things they wished to let go—the gamut saw simple posts like 'fattening food' to lengthy, emotional letters about smoking, relationships and so on. And just before sunset, every one stepped out holding large bunches of balloons and in unison, truly let go. An initiative by Shreya Naik, a twenty-something music manager, has got the town talking…and opening up.
"People find it hard to express themselves. It's a simple act that may sound childish but really works by writing it down, pasting it to a balloon and letting go of that balloon," says Borivli resident Anuja Pardeshi.
The first in a series of participatory art installations by the music manager, Naik says, "Every time I was upset about something and wanted to let go of it, I bought a balloon and wrote that thought or memory on it and let it fly away. If I had more money, I could go to the big brands and shop my heart out but this made more sense to me. I have been following participatory art and I like the idea of sharing it. My friends liked the idea and they tried it too—the trick, they said, works so I decided to share it with the world."
Naik is in talks with cafes and pubs across the city; she plans for a project similar to this for the month of September. "This city has no time for itself; people are so busy that they don't seem to have any time for themselves or each other. They are unable to express their feelings to anyone and going to a counsellor just does not cut it. The need for community support is missing and that's what the city needs," adds Naik.
Amit Ashar, a Bandra-based photographer shares, "When you want to let go of something, something that you don't want to continue holding on to anymore, the physical act of this project is an affirmation to that effect."