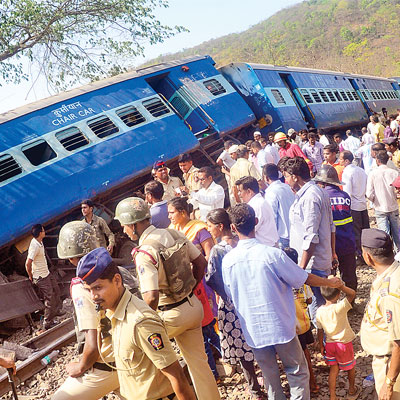 The investigation by the commissioner of railway safety into the Diva-Sawantwadi train accident is set to begin on Thursday. The investigation is expected to unravel the truth as to what happened at a time when every department is playing the 'not our fault' card.
The CRS inquiry is to be conducted by CRS Chetan Bkashi, who is expected to go into the minutest details of the accident to find out if it indeed was a freak occurrence or whether it was the result of a network being pushed to the brim by too many trains and too little maintenance.
For the moment, each department is trying to show that if at all there was a problem that caused the accident, it had nothing to do with their department. While a section of railway officials, from non-engineering departments like operations, believe the track welding coming off might have been the cause. But the engineering department officials - the one responsible for track maintenance said the welding at the spot was not compromised. The fact that 34 blocks were taken between Nagothane and Roha in the past one year to check the welding of these joints is also becoming a point of controversy.
"It is not a very comfortable thought to know as far as safety is concerned that after 34 blocks, something this tragic could happen," said an official. However, an engineering official said that these blocks have been useful.
In fact, sources said that CRS Bakshi, during his visit to the accident site made CR officials retrieve the pieces of broken track and re-assemble it like a jigsaw puzzle. Officials said Bakshi also made a very minute inspection of the joggle plate, a heavy metallic strip used as an emergency apparatus to clamp a welded piece of track in place. It allows continuous movement of trains, at lower speeds though on the welded part of the tracks.
The speed of the train is also being given a clean chit by a section of the officials saying that timings of the train near Nagothane showed that the train was maintaining the 65 kilometres per hour speed limit imposed on the stretch because of these welded tracks. The event recorder of the train, which will throw light on the speed- has been sent for analysis as well.
"Moreover, the stretch has a 5 degree curve and the gradient from Nagothane to Roha is one in which the train keeps climbing a slope. Over-speeding while going up such a gradient is not possible," said an official.
All eyes are now on the CRS inquiry because as one official puts it, the truth, however, comfortable must come out. "We owe it to the people, who use our trains in the belief that every safety procedure has been followed to the last detail," said the official.