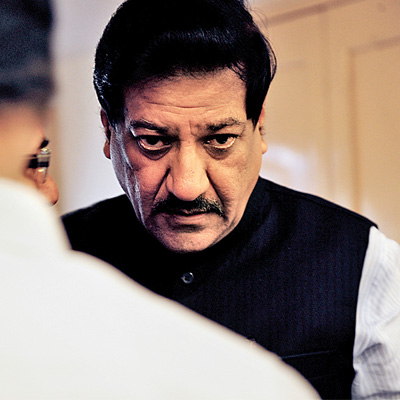 Former Congress chief ministers of Maharashtra will meet in Delhi on Saturday to do a post-mortem on the party's near annihilation in the state in the LS polls. This meeting will also decide the fate of chief minister Prithviraj Chavan.
The meeting, to be chaired by senior leader AK Antony, is to be attended by Sushilkumar Shinde, Nayaran Rane, Ashok Chavan as well as senior party leaders. Sonia Gandhi's political advisor Ahmed Patel will also attend it.
Sources close to this development told dna that the meet would consider the pros and cons in continuing with Chavan till the assembly elections.
"There is huge resentment in Congress rank and file against Chavan. Many senior leaders, as well as ministers feel giving him an extension would make defeat certain for the party. The high-command has already spoken to several leaders on the issue. The June 28 meet will seal Chavan's fate. The meeting will submit its report to Congress president Sonia Gandhi and vice president Rahul Gandhi for them to take a call once they return from abroad," said an ex-CM requesting anonymity.
He said they were not sure whether Chavan would be retained. "We can only recommend, the high command has to take the final decision. We will however give our frank opinion as our future depends on the party performing well in assembly elections. We need a strong leader who can take political decisions. He also has to keep party rank and file, MLAs and ministers together. Presently, the ground situation is against us; we have to put up a united face for the election," he said.
Another senior leader said the CM was solely responsible for the party's abysmal showing in the LS polls. "NCP, which had contested less number of seats, was also battered because of allegations of corruption. But they still managed four seats. Congress won just two. It's because of the party's weak and non-decisive leadership in the state. Chavan's clean image did not help our candidates. He failed to connect with the masses. He is more of an administrator," said a Congress leader, who has been invited to the Delhi meeting.
It was also learnt that a few senior state Congress leaders are already in Delhi to lobby for themselves.