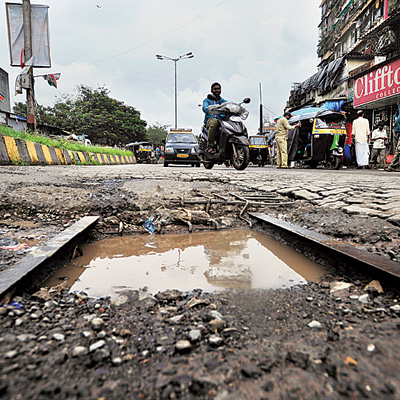 Chief minister Prithviraj Chavan seems to have blown the poll bugle. He has rejected the BJP-Shiv Sena-ruled Brihanmumbai Municipal Corporation's (BMC's) demand of handing over all roads in Mumbai to the civic body for better monitoring and maintenance.
Currently, different agencies — BMC, Maharashtra State Road Development Corporation (MSRDC), Mumbai Metropolitan Region Development Authority (MMRDA), Public Works Department (PWD), Mumbai Entry Points Limited (MEPL), Dairy Development Department — are looking after the upkeep of roads and bridges.
"What is the condition of the roads that BMC currently has? They are unable to handle even those," said Chavan, shooting down the demand raised by India's richest civic body whose present fiscal year budget is at Rs31,178.19 crore.
Chavan, however, agreed that there is confusion among citizens over the jurisdiction of numerous roads and which agency maintains which motorway.
For example, the Western and Eastern Express Highways and Sion-Panvel Road are looked after by PWD. But Andheri-Ghatkopar Link Road, Eastern Freeway and RC Marg are with the MMRDA. Some of the flyovers spread around Mumbai are under MSRDC's jurisdiction, while most of the flyovers and pedestrian subways are looked after by toll collecting agency MEPL. The poor state of roads inside Aarey Milk Colony in Goregaon is due to ignorance by Dairy Development Department despite them levying toll on motorists.
In this year, it earmarked Rs40 crore to repair potholes at ward levels. Until earlier this week, the civic body had identified over 9,000 potholes on the roads under its jurisdiction across the metropolis.
The BMC intends to spend Rs2,500 crore towards betterment of city roads in the current financial year, while a sum of Rs7,774 crore will be used for the same purpose in the next three years.
In the last five years, it has already incurred expenditure of around Rs4,000 crore to concretise 150km and lay asphalt on 450km.
Mumbai has a road network of almost 2,100km and BMC is responsible for around 1,950km; around 100-odd km are being maintained by other agencies and departments.