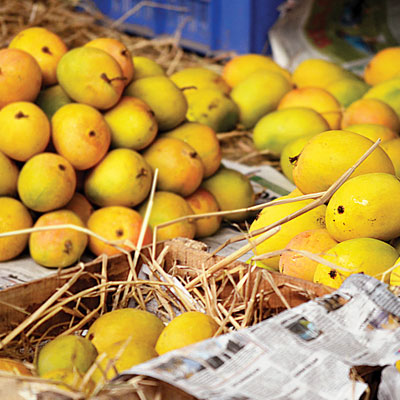 If traders at the Agriculture Produce Market Committee (APMC) in Vashi are to be believed, the price of Alphonso mango — considered the king of fruits — has crashed to an all-time low. Now, the price of premium-quality Alphonso mango available in the wholesale market is matching the price that was in 1996.
The situation has arisen because of excessive supply of the commodity coupled with the ban on import of Alphonso mangoes by countries of the European Union (EU).
At present, the premium quality is commanding a price range between Rs300 and Rs400 per dozen in the wholesale APMC market. "During this period, in the last ten years, the price of premium quality Alphonso mango never went down below Rs600 per dozen," said Sanjay Pansare, director, APMC's fruit market.
The APMC market continues to receive around 1.25 to 1.5 lakh boxes of mangoes everyday. "With sound supply, the prices of all quality mangoes have gone down," said Pansare.
Pansare says that he has been in the mango trade for around 20 years and the current price is matching the price of 1996. "It is unfortunate for farmers that they have to sell the premium fruit at a price that their parents used to sell in the 90s," said Pansare.
Even in the retail market, the impact can be seen with mangoes flooding the stores with low prices. "In the beginning of the season in April, the prices of high-quality Alphonso mangoes was around Rs1,000-1,200 per dozen. However, this slid to Rs700 per dozen in the end of that month," said a retailer in Vashi. In the past one week, the prices slumped again and it touched Rs400 per dozen.
At the APMC market, traders claim that there is an excessive supply of mangoes because of the ban by EU. "The EU imports 7% Alphonso mangoes of the total export, which has been stopped from May 1.
This has caused a great impact in the market," said Pansare.
A majority of traders believe that of news of flies in the fruit has also affected local buyers who are avoiding buying the fruit. "This is the peak time when buyers flock APMC and the retail markets to buy mangoes. However, the scenario has changed," said a trader at APMC, adding that the news of using a banned chemical — calcium carbide — has also pushed the price down.
According to a representative of Association of Federation of Maharashtra, India exports over 50,000 tonnes of mangoes to various countries of the world. "We are fortunate that the export has continued to East Asia which accounts for 30% of the total export," said Pansare.