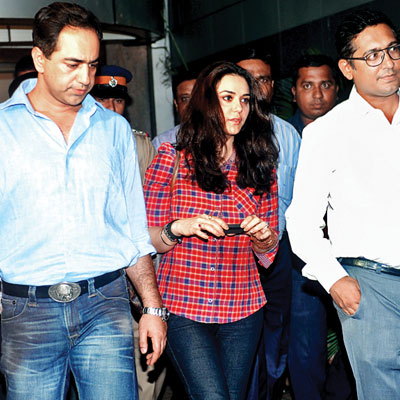 The Mumbai police on Tuesday recorded the statement of actor Preity Zinta. She had on June 13 lodged a complaint against her former boyfriend Ness Wadia, accusing him of misbehaving with her at Garware Pavilion during an IPL match.
She was at the stadium for over two hours where her supplementary statement was recorded. The police also asked her to describe the sequence of events.
"We have asked her to provide a list of witnesses present at the spot whose statements have not been recorded so far," said an officer.
A senior officer said: "Zinta wanted her statement recorded at her house, but we insisted she come to the stadium. As per her statement, on that day they had been allotted 35 AC seats and 50 general seats at Garware Pavilion. She also said Danish Merchant was a direct witness to the incident."
Zinta also told police that one Jean, a relative of an Australian cricketer, was a key witness. Merchant, a businessman, was seated on the fifth seat while Zinta was seated on ?fourth. The Australian apparently asked Wadia to keep quite when he was abusing her. She also said that three such incidents occurred that day: first one just below the AC box, second at her seat and third on the ground. The actor has also named 14 more witnesses who include staff and common friends of her and Wadia.
Police said they would record statements of four more persons. Jean is currently in the US. Police are likely to call him.
Police said they would corroborate her statement. "We wanted a witness who is not her bodyguard or friend. According to her, Merchant witnessed the entire incident."
When asked if they would call Wadia to record his statement, the officer said they would first record the statements of the witnesses and then decide the next course of action.
So far, apart from the complainant, police have recorded the statements of 8 people of whom six have corroborated Zinta's version.
Meanwhile, Wadia's lawyer informed police that the industrialist would cooperate with the investigations.