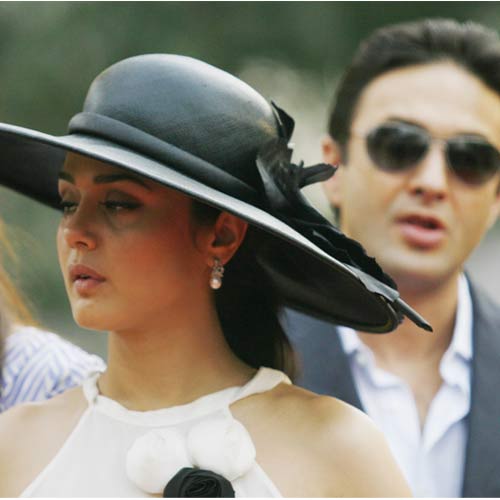 Actress Preity Zinta has told the police that she would get her second in-detail statement recorded at her Khar residence as she doesn't want media attention. The police have prepared a questionnaire which, they believe, will help them identify witnesses to bolster their case against industrialist Ness Wadia.
Zinta arrived in the city from the United States on Sunday morning. There was speculation that the Marine Drive police would record her statement the same day itself in the case she had lodged against her ex-boyfriend Wadia. However, Additional Commissioner of Police (south region) Krishna Prakash confirmed that the statement had not been recorded.
"Zinta told us that she would get her statement recorded at her Khar residence as she does not want much attention. We might do it either by Monday or Tuesday," said an officer, privy to the investigation, on the condition of anonymity.
The police have also prepared a questionnaire which they claim will help them identify new witnesses. "Preity, in her earlier statement, had claimed that she was insulted by Wadia at three different locations within the stadium. We will ask questions including who all were present at the spots, who was the team staff present, how many tickets she had received and to whom she had given them, as well as when she had emailed Wadia," said the officer.
The officer added that once these questions are answered, the police will decide the statements of who else would be recorded. Meanwhile, an officer from the anti-extortion cell of the crime branch has said that they will not be recording Zinta's statement in connection with the threat call received by the staff of Nusli Wadia by gangster Ravi Pujari, warning him to stay away from Preity's "matter".
The anti-extortion cell sources on Sunday said that the four calls made to the office of Wadia Group at NM Joshi Marg were not made by gangster Ravi Pujari. The calls turned out to be made by Nigerian fraudsters and advertisers. "On Friday, four calls were made to the Wadia's office. The staff found those numbers suspicious as they were similar to the international numbers which were used by Pujari to make calls and hence, they did not take those calls. However, our inquiry revealed that the calls were of tele-calling advertisers and Nigerian fraudsters," said a police officer.