2,862 cases of adverse drug reaction reported in India in March, 8% from Mumbai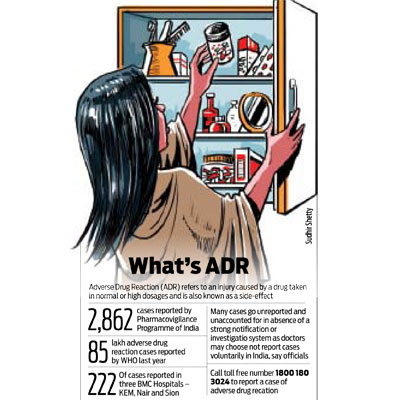 Popping seemingly harmless pills may lead to adverse drug reactions (ADRs) in a patient's body. The World Health Organization reported 85 lakh cases of ADRs in the world last year and India contributes to close to one percent of all the cases reported.
"A little less than 85,000 cases of ADRs to medicines have been reported by the Drug Controller General of India (DCGI) in India," a senior DCGI official told dna. DCGI though has not released data on number of deaths caused by ADRs every year in India.
ADR refers to an injury caused by a drug taken in normal or high dosages and is also known as a side-effect.
On May 1, 2014 dna reported, "Woman pops pill to control uric acid, left with burnt skin," in which patient Sharmila Shinde (57) had consumed GlaxoSmithKline (GSK) manufactured Zyloric which contains drug allopurinol. She contracted a life threatening adverse drug reaction (ADR) – Toxic Epidermal Necrolysis Syndrome (TENS), which has caused her flesh to burn from inside and has led to her skin layers to peel off in sheets. Shinde lies critical in a quarantined intensive care unit at Jupiter Hospital in Thane battling for her life.
In March 2014 alone, 2,862 cases of ADRs were reported under PvPI, 222 cases (8%) were reported from BMC-run hospitals – KEM , Sion and Nair hospitals.
The DCGI has upgraded its Pharmacovigilance Programme of India (PvPI) to include 90 ADR monitoring centres (AMCs) under it's ambit across the country. The Central Drug Safety and Control Organization (CDSCO), New Delhi under DCGI compiles the data reported by AMCs. In October last year, DCGI started a toll free number – 1800-180-3024 for doctors and patients to report ADRs.
ADRs may vary from mild to severe cases, say doctors.
"When we see a large volume of patients in public hospitals and ADRs are bound to crop up. It may manifest as rashes on the skin of a patient or may lead to more severe forms of acute renal or liver failure. Earlier, people never quite understood the gravity of ADRs but pharmacovigilance has been stepped up in the past few years," said Dr Avinash Supe, dean, BMC-run Sion Hospital in Mumbai.
"At present we have data from across 90 ADR centres to support our observation which disturbingly point out to the fact that some of the drugs that we have perceived to be safe have been showing signs of adverse reactions on patients over the years. Once the report is submitted and reviewed by the drug regulatory authority they will be taking requisite steps as deemed necessary to address this matter," Dr SK Gupta, advisor, PvPI had earlier told the media in June last year. Till date no such report on ADRs has been released.
After the dna report on May 1, Maharashtra Food and Drug Administration (FDA) officials visited Jupiter Hospital, Thane where Shinde is admitted to carry out a detailed investigation into her condition.
FDA officials say that 85,000 reported cases of ADRs in India may just be a tip of the iceberg. In the United States which has a robust reporting system, one lakh patients die of ADRs amidst a population of 31 crores. The US Food and Drug Administration (US-FDA) issues ADR alerts on potent medicines on a timely basis. Such cases are notified by the hospitals and doctors as and when they occur. In India where the population reels at close to 121 crores, cases of ADR go unnotified as doctors and hospitals may choose not to voluntarily report such incidences to Central Drugs Standard Control Organization (CDSCO), New Delhi.
"The mandate of collecting ADR data lies with CDSCO. In Maharashtra, since this year, however, drug inspectors are being trained to conduct proactive investigation and report ADR cases from their localities. Maharashtra FDA is in process of compiling such information," said state FDA commissioner Mahesh Zagade.
What's ADR
Adverse Drug Reaction (ADR) refers to an injury caused by a drug taken in normal or high dosages and is also known as a side-effect.
85 lakh adverse drug reaction cases reported by WHO last year
2,862 cases reported by Pharmacovigilance Programme of India (PvPI) in March 2014
Of which 222 cases reported in three BMC Hospitals – KEM, Nair and Sion
Many cases go unreported and unaccounted for in absence of a strong notification or investigatio system as doctors may choose not report cases voluntarily in India, say officials
Call toll free number 1800 180 3024 to report a case of adverse drug recation