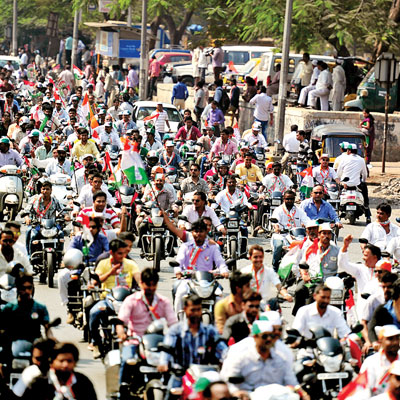 With just two weeks to go for elections, the unemployed and the lowly paid in the city are trying their best to take part in as many political rallies as possible. No, this has nothing to do with their loyalty to any party. It's simply because they tend to gain monetarily.
Many in the city, who get paid only Rs 100 or Rs 200 for a day's hard work, have temporarily stopped going to work and are taking part in political rallies as that's lucrative. "I work eight to 10 hours a day and still come back home with only Rs 200. If If I go on a political campaign, I not only get Rs 500 for a few hours, but also free food," said a daily wage labourer who lives in Chembur.
A political party worker in North-West Mumbai said that these 'workers' are paid according to the area they 'work' in. Those attending political rallies and campaigns in plush areas are paid well while in lower middle class areas and slums they are paid much less.
A social worker, on condition of anonymity, said: "Political parties usually target slum dwellers. While men are lured with cash and liquor, women are given cash and sarees. These people do not have alliance to any party, and will work for any party that offers them the best deal. Sometimes, one person will attend rallies of different parties on the same day. And even if they stick with one party for rallies, there is a good possibility of them voting for some other party."
Along with cash, liquor and sarees 'free food' is one major factor that attracts these people. "This is the only employment, albeit temporary, which has the 'age-no-bar' tag attached to it. Anyone between 16 and 60 can thus get 'employed'.
"If the party worker is attending a rally he is straightaway given an amount. A few dedicated party workers never charge anything. However, they make use of their party posts for getting their work done throughout the year," said a political worker.
One such worker, who toils in two shifts for a party, said: "If I am expected to take part in a bike rally, I am paid Rs 500 per rally, which includes my bike and fuel charges. However, if a party worker is riding his bike along with me, he will be given only fuel charges. In slum areas, the rate goes down to Rs 400," he added.
In a campaign rally in Bandra, where people are expected to walk, these 'workers' are paid Rs 400 each, but in slum areas of Dharavi, Kurla, etc they are paid only Rs 250 to Rs 300 each.
The rate card differs not only from area to area, but party to party also; it also depends on the kind of 'workers' taking part. "There are some national parties, which really pay 'workers' well as these parties don't have strong base among workers or network in the city.
Senior workers and known faces are paid even better. The rate card here starts from Rs 1,000 and can go up to a hefty package. They have to be paid more because they are not used to taking part in such rallies or morcha, and have never attended long dharna or meetings. Parties also find it important to keep them in their fold," said a worker who had attended the campaigns of two different political parties.