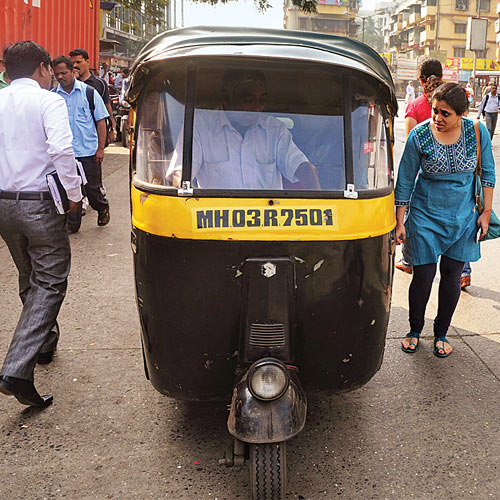 "It's a daily struggle... a battle," says Chembur resident Subash Nambiar, frowning at the thought of waiting for an autorickshaw after getting back home from work.
Between 5pm and 9.30pm, it's impossible to flag down an autorickshaw, complains Nambiar, who often legs it back home. "No choice," he shrugs, "Autos refuse to ply."
There might be some reprieve in store for commuters like Nambiar who often face trouble getting a rickshaw or taxi during peak hours. Traffic policewomen and policemen have started scouring the streets in plainclothes to nab drivers who refuse to ply. And they're concentrating on areas where such refusals are the highest. The police, who started this crackdown last September, say this hunt for such drivers will continue till a visible change is brought about.
Though cabbies who are caught refusing passengers are made to cough up a penalty. the traffic police say this is hardly a deterrent.
So, the police will now start compiling a list of such drivers and the list will be sent to the state transport commissioner who will issue them a 'show cause' notice. Those who fail to justify the refusal of fare will have their licences impounded for 10 days. Repeat offenders could face permanent suspension of driving licences, said a traffic police officer.
This officer added that the system will soon be computerised and it will help keep a tab on the number of times a driver has been penalised. The punishment for such repeat offenders could be much more grave, said the officer.
Besides helping commuters, the crackdown also intends to elevate Mumbai's commuting scenario on par with international cities. For example, such refusal to play is unheard of in places like London, New York, Tokyo or Sydney, said deputy commissioner of police (traffic) Pratap Dighavkar,
"Mumbai seems to be facing this problem more than any other city in the country... This will change very soon," said Dighavkar. He added that they will concentrate on this drive for 2014 and are positive of bringing about the change and meet the standards of international cities, to some extent, by the end of this year.
Autorickshaw union leader Sharad Rao said there are 60,000 autorickshaws that ply in the city and another 25,000 that run on bogus permits. "We have been sending letters to the transport commissioner and the authorities concerned to take action against such autorickshaws, but nothing has been done so far," said Rao.
He, however, said that drivers do not refuse a passenger until they have a genuine reason to do so. "After all, they earn their livelihood by ferrying passengers. Here, one has to consider the demand and supply chain. While the population has risen sharply, the number of autorickshaws available has gone down over the years," said Rao.
Lodge your complaint
Commuters can send an email to the traffic police department with the registration number of the taxi or autorickshaw who has refused to ply. You can send your mail to: traffipolice@mumbai.maharashtra.gov.in or dcptrafficwest@mumbai.maharashtra.gov.in
Not too fine
Taxi drivers refusing to ply are penalised Rs200 while autorickshaw drivers are made to cough up Rs100. More than 11,000 cabbies and autorickshaw drivers were penalised by the traffic police in 2013.