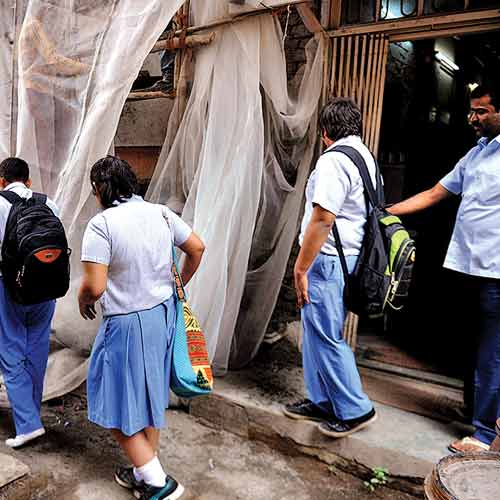 A civil works contractor, carrying out repairs to a school in South Mumbai, has been issued a notice by the police that it should ensure that the dyslexic children studying at the school are not inconvenienced and that the school should continue to function.
The school in Gamdevi, Manu Prem Trust, had complained against the contractor. Of the 50-odd students on rolls, only 23 are attending school due to the chaos on the premises. The police have also registered a non-cognisable offence against the contractor.
The school, which is located on the ground floor, had complained that it was almost forced to close due to repairs being carried out to the building.
The building had been bought by Diwakar Infrastructure Pvt Ltd, a company owned by Braj Binani, chairman of Binani Group, last year. This, said the school, had threatened the academic careers of 53 dyslexic students.
An officer from Gamdevi police station said that the complaint has been registered against the contractor. "This was done after the school authorities told us that a side wall of the building had been broken during repairs, making it difficult for students to enter. They also claimed they were being threatened," said a police officer.
The school trustees also alleged that the building had a water tank which was the source of water supply for them. They have alleged that this tank was removed by the new owners.
The police, who said they had visited the building, however claimed that water supply is in tact.
School trustee and director Smita Mehta, 70, insisted that the new owners had stopped water supply in November 2013.
Additional commissioner of police Krishna Prakash said they would initiate action if any inconvenience is caused to the students. "As for water supply, it seems unlikely that this is done.
But if it is so, it amounts to mischief," said Prakash.