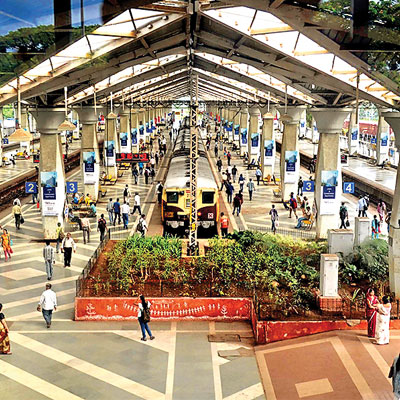 While the number of travellers on suburban locals losing their lives or getting injured due to the height of the railway platforms is on the rise, in Navi Mumbai, the scenario is totally different. Here the platforms, designed by Cidco, adhere to standard specifications and are passenger-friendly.
According to railway officials, in Navi Mumbai stations there is no risk for commuters, and instances of passengers falling from trains are very less.
"Height of platforms is not a major concern here as it is technically correct and there is no need for immediate alteration," said a Central Railway (CR) official.
The state-of-art railway stations across Navi Mumbai were developed by the City and Industrial Development Corporation Ltd (Cidco), and here there are all provisions that modern railway stations require. There is proper entry and exit points with adequate space in subways, which are well illuminated night and day, and hence women commuters feel safe. And, unlike in Mumbai, the premises outside the stations have not been encroached.
The Harbour Line service was extended from Mankhurd to Navi Mumbai in the 1990s and the Trans-Harbour Line was opened to commuters in 2007. Over the years, the number of commuters using these stations has grown rapidly and therefore the demand for more trains as well as induction of 12-car services too has grown.
In 2013, the number of deaths registered both by Vashi and Panvel railway police was 24, of which 16 persons died in Vashi station police's jurisdiction.
This is the most crowded railway station in Navi Mumbai and the number of footfalls here daily is around 2.34 lakh.
"In the last couple of years, the footfall has multiplied," said Sudarshan Khurana, station manager, Vashi station.
This, however, is a concern for the Central Railway. "Introduction of the 12-car services is inevitable on the Harbour route as a number of passengers now travel on foot steps," said Abhijit Dhurat, president, Navi Mumbai Pravashi Welfare Association.
According to Khurana, a majority of the accidents take place due to human error. "Crossing railway tracks and walking along it is very common. A majority of the people died while trespassing the tracks," said Khurana.
The satellite city houses 15 railway stations, all built as a joint venture between CR and Cidco. Now they are all maintained by Cidco and the operational part is handled by CR. According to sources, Cidco has agreed, in principle, to hand over all stations along the Harbour Line and Trans-Harbour corridor to CR.
"The transfer will help us oversee station maintenance; the dual administrative system bars us from taking up many works," said a railway official requesting anonymity.
Interestingly, the extension of platform has also been completed and the installation of sheds is going on. "The extension of platforms and the work on sheds will be completed in a couple of months and all the platforms will be able to accommodate 12-car trains," said a CR official.
Vashi station ties up with Inorbit mall for ambulance
Most suburban stations lack round-the-clock ambulance services. The Vashi station has, however, found a unique solution to this problem. It has tied up with Inorbit Mall, which has two ambulances offering 24-hour service. The mall is located just opposite the station.
"Recently, we talked with mall officials, and they have agreed to let us use their ambulances during emergencies," said the Vashi station manager.
"Many passengers lose their lives because medical help is not given in time. I hope our effort will help accident victims survive," said Khurana.
Divine help
The stations here have taken a number of steps to make commuting safe. The officials in Vashi even offered a special puja on February 1 to make the Gods happy, and interestingly, till February 24, not a single accident has been reported at the station. "In the last couple of years, there was not a single month free from accidents," said a station official.