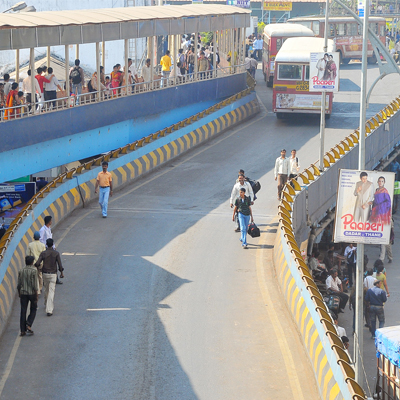 Much has been done to de-congest Thane city and recently it has been decided that the other arm of SATIS would be connected to Expressway at Thane East.
The Thane SATIS (Station Area Traffic Improvement Scheme) which was constructed at the cost of Rs 29.36 crore was aimed to decongest the overpopulated Thane city. But residents and activists allege that despite putting so much money into the project, only one arm is useful in decongesting the traffic while the other arm is not serving the purpose. TMC commissioner Assem Gupta too realised that the other arm of SATIS is not being used judiciously and is not contributing enough in decongesting the city hence, he has planned that another arm of SATIS be extended to Thane east and later extend till the expressway.
Another arm of SATIS bridge has been proposed, but the only worry is about the height of the bridge, because presently, fire brigade vehicle cannot ply to Thane station in any emergency situation, because of the low height of the bridge. Replying to the query the commissioner said, "For the new bridge we have considered this problem and height would be sufficient enough for bigger vehicles. Thane based activist Chandrahas Tawde had pointed out earlier that the fire brigade cannot go inside SATIS and the risky turns near the bridge should be reworked.
It seems that the officials have taken a note to the problem and TMC commissioner is taking deep interest in extending the other arm till the expressway.
All plans regarding the extension have also been approved and are in their final stages. After we spoke to a few residents, even they feel that this plan would help to further decongest the city.
Seemant Jha a resident says, "Flyovers and bridges are necessary for city development but what we are worried about the most is, that the money should be used wisely. The present SATIS bridge is helping people in many ways, but if we see the amount of money which has been used for the construction, then it is not justified as one arm is not used."
People agree that good projects are inevitable part of a developing city, but they also ask that the officials should see the return value and viability of any project.
Summet Chabra says "FOB (Foot Over Bridge) at Thane station connecting to Thane east is hardly used by people. In fact it is used by couples and commuters hardly opt for this, hence, taking a cue from these cases, the officials should analyze the project and its viability."