Forget the jejune tunes of today and take a leap into the oblique charms of Western Classical music. Here is part I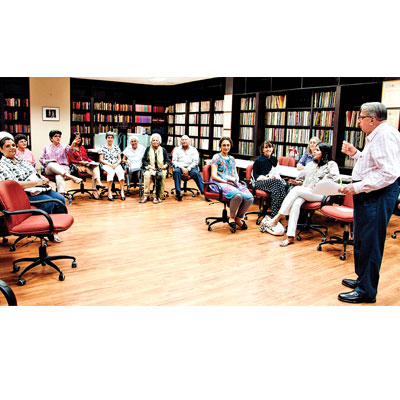 Though all of us may seem to be tethered to pop music with its frisson of ease and immediacy, if you lift the veil, you will find a miniscule section of SoBo society still celebrating musical plurality.
NCPA
Certainly the biggest promoter of Western classical music is NCPA—SoBo's glorious cultural monolith with its clutch of concerts held through the year. NCPA's brainchild, the SOI (Symphony Orchestra of India), perhaps India's first truly professional orchestra, flashes and swoons under the baton of eminent conductors from around the world. Before several of these concerts, a half-hour explanatory talk is given to help listeners comprehend the rich polyphonic music by the erudite Zane Dalal, SOI's Conductor in Residence.
Lamington Road-resident Swapna Vora, who has written about Indian art and culture for years, says, "I go quite often for the musical performances at NCPA. I especially enjoyed the BBC Scottish Orchestra's programme for children. The problem is that young people do not attend these events. It is mostly the elderly." NCPA attempts to rectify this with their eight-year long programme for children, where kids are trained by resident teachers from Russia and must compulsorily learn to play the violin and the piano, among others.
There is even a monthly opera appreciation group by Jimmy Billimoria, librarian at NCPA. A Grant Road-resident, he says, "These sessions are conducted largely through the Indus Group and are held at the NCPA library. We play a little opera and then we discuss it for a couple of hours."
www.ncpamumbai.com
Bombay Chamber Orchestra
"It is impossible to forget about the Bombay Chamber Orchestra," says Babulnath Road-resident Shirin Patel, a NCPA regular. Founded in 1962 by the feisty Jini Dinshaw as an educational trust, one of its greatest initiatives involves offering free musical education, while encouraging young talents to work with instruments of their choice. Even better, instruments are often loaned to students who cannot afford to buy their own. This Fort-based organisation also hosts workshops by visiting international musicians.
www.bcoindia.co.in