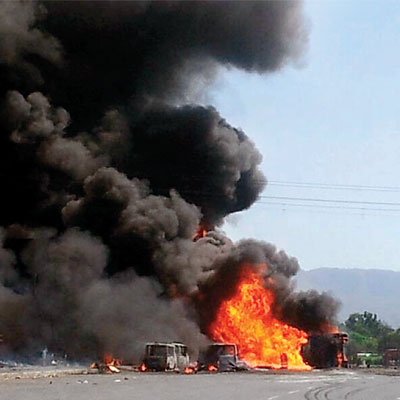 A Mumbai-bound petroleum tanker on Saturday turned turtle on the Mumbai-Ahmedabad highway and blew up in flames, killing seven people and injuring 16 others.
The vehicle, belonging to Reliance, was carrying 35,000 litres of diesel, which started leaking after it turned turtle, leading to a major blast. The seven, including the tanker driver, were charred beyond recognition, said the police, adding that the impact of the blast was such that a hotel near the accident spot also caught fire. However, no casualties were reported there.
The blast also damaged a towing van, three six-seater autorickshaws, a bike and a car which were parked near the accident spot. The fire, which could be seen even from 10km away, led to slow traffic movement on the highway.
The tanker driver was en route to Mumbai from Ahmedabad and was allegedly driving rashly. When, near Charoti Naka, he was about to ram a biker, he braked and the vehicle turned turtle.
The Thane rural police went to the spot immediately. Around eight fire tenders were pressed into service to douse the fire. A rescue team took the 16 injured, who sustained severe burns and fractures, to a sub-district hospital in Kasa.
"Four patients were shifted to Thane Civil Hospital — one is a woman who sustained 100% burns and the rest are men with serious injuries. A seven-year-old girl sustained 50% burns and a 14-year-old girl sustained 100% burns. The police have taken the bodies of the seven deceased and will send them for forensic analysis," said Dr Saqeeb Saudagar, medical officer, sub-district hospital.
Superintendent of police (Thane Rural) Rajesh Pradhan said, "We are trying to establish contact with the petroleum company officials to identify the driver and have booked him under section 304A (death due to negligence), 279, 337 and 338 of the Indian Penal Code and under section 184 of the Motor Vehicle Act."