dna reader and Andheri-resident Sanjay B highlights a major problem plaguing residents of Gundavali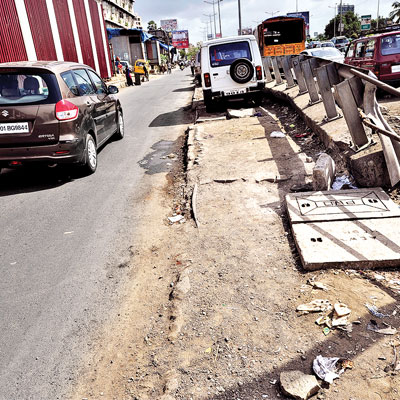 The entry and exit points of service roads at Gundavali, that run parallel to the flyover at Andheri East , which is a part of Western Express Highway, are very congested. There is heavy traffic on these important roads, which are the entry and exit points to one of the most important residential and commercial hubs of the city. Also, several thousand office-goers access these roads to reach their offices in MIDC and Andheri-Kurla Road.
The major issue faced by residents and office-goers is that there is no place to walk as the footpath has been totally encroached upon by fishermen, hawkers, and illegally parked vehicles. The little space that is available for walking is used by bikers to ride from the Western Express Highway to the service road.
Senior citizens, pregnant women as well as other pedestrians, who are forced to walk on the road, have to be very cautious as there is the fear of being run down by speeding heavy vehicles. Though three to five traffic constables are present at the entrance of the service road, they turn a blind eye to all this. When I asked traffic constable Vaje about this, he questioned me, "Where will the residents park? Please complain to the local police station and then we will take action." I was stunned to hear this from a traffic constable, whose superior, Dr BK Upadhayay, has promised (in the media) that strict action will be taken if anything is brought to their notice. Then, why is there such a disconnect?
Also, the subway that connects these two service roads is dimly lit and local road romeos often harass women by passing lewd comments and trying to get close to them.