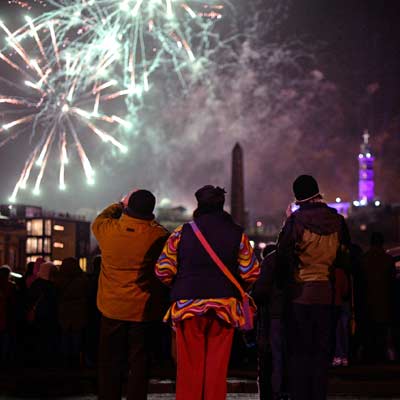 Mumbaikars can now party till wee hours in the morning on New Year after the Bombay High Court extended the deadline for hotels and restaurants till 5 am. It set aside the the Mumbai Police Commissioner's (CP) order of keeping hotels and restaurants open till 1.30 am terming it as "illogical".
Justice Gautam Patel set aside CP's order setting deadline as 1.30 am citing concerns of law and order, security and women safety.
The HC was hearing a petition filed by Indian Hotels and Restaurant Association (AHAR) challenging the CP's order citing it as discriminatory as five-star hotels and pubs were allowed to remain open till 5 am.
While extending the deadline, the HC has asked the hotels to give an undertaking that security inside the premises would be their responsibility. The hotels and restaurants with orchestra have been asked to ensure that the music does not spill outside their premises. Veena Thadani, counsel for the petitioners assured the court that their premises were soundproof.
Justifying the 1.30 am deadline for the hotels and restaurants, government pleader Dhairyasheel Nalavade said that there were threat perceptions to city's vital installations in the wake of seven Indian Mujahdeen (IM) terrorists absconding from jail in Madhya Pradesh.
Nalavade also pointed out recent reports regarding IM terrorist Yasin Bhatkal's statement on the terror outfit planning nuclear bomb attacks in the country.
The judge however dismissed the reason saying that the city faces threat perceptions all the time. "Threat perception to the city will be there all the time. Not just on December 31," said justice Patel.
Justice Patel did not accept the argument about women's safety for the early deadline saying that untoward incident can occur at any time of the day. "The Shakti Mills gangrape incident did not happen on December 31. It happened in a normal day. If proper precautions are taken, such incidents would not occur," said justice Patel.
Veena Thadani, counsel for the petitioners, showed a circular issued by the State Home department on December 19 stating that it had permitted hotels to continue the party till 5 am.
After going through the circular, justice Patel said: "If the Home department under which the police comes has no problem with the celebrations going on till 5 am then why is the police setting deadline of 1.30 am. This is without logic."
AHAR in its petition had also said that the 1.30 am deadline was not imposed on five star hotels and pubs. "They are allowed to remain open till 3 am. Why this discrimination? This is a very elitist outlook. Are only the rich allowed to party and celebrate ?" Thadani questioned.
Also read: Bombay High Court order in AHAR's favour gets Mumbai police chief to make last minute changes in city security