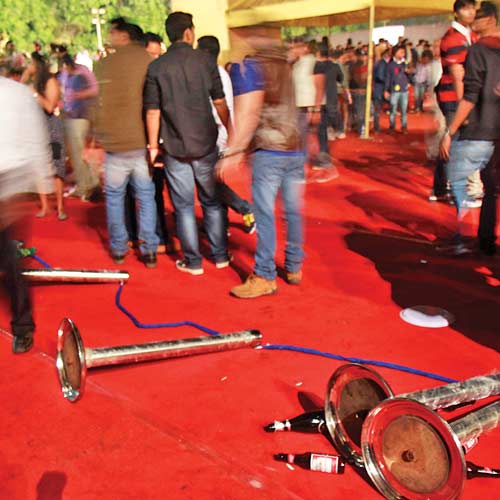 New Year eve celebration at Tulip Star hotel in Juhu was stopped after party-goers turned violent and ransacked the stage and bar counter due to shortage of food and alcohol. However, the situation was brought under control by the police.
Hundreds of revellers approached the Santa Cruz police and a cheating case was registered against party organiser Soni Jain and the owner of the hotel.
The police said the celebration was organised by "Purple Stone Entertainment" and they took permission from collector, saying that their arrangement was for around 12,00 people. But after getting permissions from the police, the traffic and excise departments they sold their tickets and passes to around 5,000 people in three categories.
"The passes were sold to VIPs for Rs8,000 and to others for Rs4,500 and Rs2,000. It was a total mismanagement by the organisers and the people turned violent after they stopped serving alcohol and food on the counter around 10.30pm. Arguments started between party-goers and security guards after they tried to push them away from the drink and food counter," said a police officer.
"Then people damaged the counter and the stage meant for DJ and started throwing chairs and bottles. We were standing on the gate and immediately went inside the hotel. We managed to calm them down in half an hour and removed them from the hotel," said senior police inspector Arun Chavan of the Santa Cruz police station.
"We have recorded the statement of around 50 people and a cheating case was registered against the organiser and owner of the hotel. We will arrest the organiser soon," Chavan added.
The complaint was registered by one Nikhil Doshi, 31, a resident of Pratap Society in Shivaji Nagar area of Santa Cruz (East).
One of the victims, Ravi Ranjan, who works in a private firm, said, "We have bought 18 passes and were very excited for the party. We were disappointed after we found that there were no proper arrangement. When we reached there at 10pm, there were no food and no alcohol."
In a similar incident at Renaissance Hotel in Powai, the police have booked the party organiser for cheating revellers. The organiser had sold more than 5,000 passes for New Year eve celebration where the capacity was around 2,500 in the hotel. There was chaos after revellers did not get food and alcohol.