BJP, NCP give undertaking to HC that they will not put up illegal hoardings, HC unsatisfied saying undertaking not exhaustive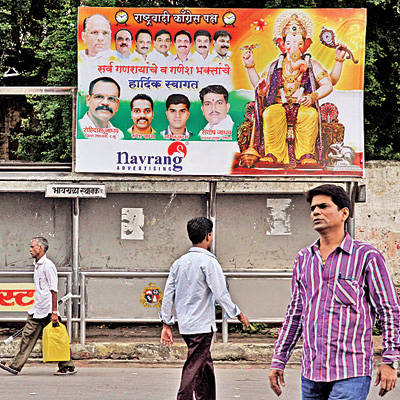 Bhartiya Janata party (BJP) and Nationalist Congress Party (NCP) on Monday filed separate written undertakings in the Bombay high court assuring that they would not put up hoardings any where in the state without the permission of municipal authorities and other local authorities.
The undertakings were given before a division bench of justices Abhay Oka and AS Chandurkar which is hearing a public interest litigation by Suswarajya Foundation which highlighted the problem of illegal political banners and posters in cities across the state.
The judges said they were dissatisfied with the undertakings because they were not exhaustive.
The NCP said in its affidavit that it would inform its local units about not putting up illegal hoardings.
Judges not satisfied
The judges, however, were not satisfied with this saying not only local units of NCP but all its state units should be told not to put up illegal hoardings.
After going through the undertaking filed by the BJP, the court noted that it should take into account all kinds of illegal banners, hoardings and posters etc and not just hoardings.
Attendance lacking
RPI-Athavale, which had appeared during the previous occasion, was on Monday conspicuous by its absence. It also did not file any undertaking as directed by the Court earlier.
HC had asked all the major political parties to appear in this PIL filed by Suswaraj Foundation. However, only BJP, NCP and RPI-A turned up during the previous hearing held last week.
Congress, Shiv Sena, BSP and MNS did not show this time up although they were issued notices four days ago.
Compliance reports
Government Pleader Sameer Patil informed that the state was ready to appoint police officers in a nodal agency proposed to be appointed all over the state to keep a check on illegal hoardings. The traffic police and the police force will allot one officer from their workforce, he said.
The HC has asked the government to file a compliance report on its earlier orders and kept the matter for hearing on August 1.
Earlier this month, the court had slammed the municipal corporations in Maharashtra for not filing compliance reports on its earlier order to remove the illegal hoardings.
On February 21, the HC had asked the municipal bodies to file compliance reports on the steps taken to remove illegal hoardings, to prosecute the culprits and to recover fine from them.
The BMC informed the high court that in 2013 around 30,000 posters were removed by the corporation of which 24,000 were political hoardings. Similarly in 2012 around 63,000 posters were removed of which 56,000 were political banners.
Earlier the high court has directed the corporations of Mumbai, Pune, Thane and Navi Mumbai to take action against illegal hoardings within 48-hours.