Community leaders for protection of trust properties, benefits for pilgrims, students and the poor.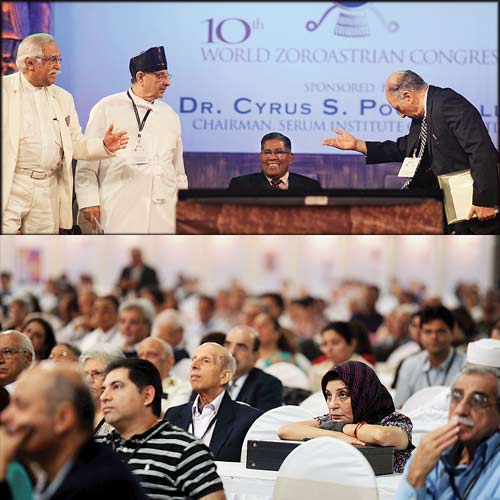 Prominent Parsis representing various punchayets and anjumans across the country have sought government assistance for protection of their properties, benefits for pilgrims and students as well as backward members of the community.
These issues were discussed with K Rahman Khan, Union minister for minority affairs, who participated in the proceedings on the final day of the 10th World Zoroastrian Congress on Monday.
The leaders proposed a Wakf-like law to protect religious places, sites like the Doongerwadis and aramgahs.
They gave the example of Bahrot Caves, near Dahanu -- where the holy fire of the Parsis has burned for 12 years -- that requires better roads to improve access for pilgrims going there.
They talked to the minister about the need to reserve some seats in professional colleges for Parsi students, facilitation of visas for pilgrims visiting holy places abroad and students going overseas.
"One of our members pointed out that some Parsis in Gujarat who are very backward should be provided some benefits," said Keki Daruwala, former additional director general of the Research &AnalysisWing, who coordinated the interaction.
He explained there was a shortage of people in the community to look after the properties in the small towns and therefore the need for a law.
After the interaction, Khan said he had asked the members to list the issues in a memorandum that he would put before the government.
"It is the duty of everyone and not just the Parsis to ensure that the community does not become extinct," the minister said in his address to the gathering, who applauded his remark. He saluted the Parsis for their contribution to the country in all spheres of life and said, "I hope by the next congress they will touch the figure of one lakh." He hoped that a government initiative would help in this direction.
The leaders expressed their satisfaction over the interaction and the response from the minister.
"He has assured us the 6-km road leading to Bahrot Caves would be repaired soon and that he would talk to the state chief minister about it," said Jimmy Mistree, trustee of the Bombay Parsi Punchayet.