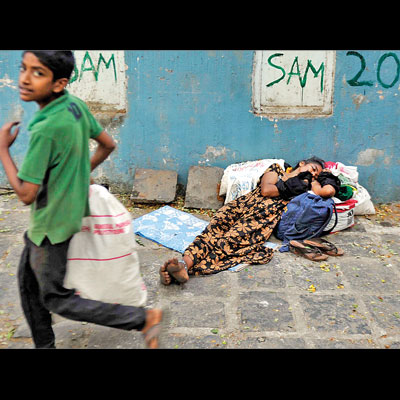 Aspy Patel, Viraf Dastoor and Parvez Palkhiwalla are just a few of the harrowed residents of upmarket Dadar Parsi colony, who are spending sleepless night worrying about the safety of their cars.
A vagrant woman, who has parked herself on the colony premises with her pack of clothes, has become a nuisance for the residents even as complaints to local authorities and police are falling on deaf ears.
The woman in her forties wanders in the area during the day, but gets aggressive at night. She starts hurling abuses at passersby. "At times if she is sitting idle and spots someone she starts abusing", said Dastoor, who has been living at the colony for the past 32 years.
Residents have lodged a formal complaint, signed by several other residents, with Matunga Police Station, F – north ward office and also with local corporator.
Dastoor and his neighbours are not just worried about this behaviour, but also fear about their cars and home decor. "She hurls stones if anyone tries to talk to her and negotiate her way out. She has damaged windshields of several expensive cars," said another resident Pervez Palkhiwalla.
The recluse woman bathes on the street at night and has been cluttering the area with her tattered clothes. Residents allege that now drunkards have started entering the premises scouting for her, which is all the more dangerous for the woman as well the residents.
Senior citizens and children are most scared. "We have tried to talk to her so that we can get her whereabouts and could possibly hand her over to the police so that she can be rehabilitated. But she gets hostile," said Aspy Patel.
Senior Inspector R M Thakur from Matunga police said he was on leave and was unaware of the issue. Inspector Vinod Kamble, current in-charge, said, "I have no clue about it, but will check with the concerned officers."
However, the police took the woman to the police station on Monday and when residents reached the police station they were advised to own up the responsibility of her rehabilitation. Dastoor said, "The police told us to bear her rehabilitation expenses which we denied. Now she is back again."