dna does a ground check of South Mumbai roads and finds illegal parking to be a major cause of inconvenience for residents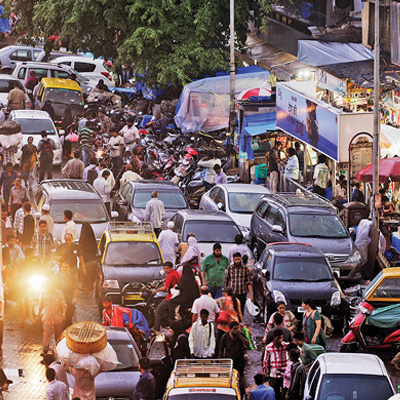 SoBo residents can vouch that illegal parking has made driving highly displeasing in their area. The epidemic of illegal parking, double parking and even parking on the footpath has spread across this zone. As a result, smooth vehicular movement is hindered and residents, especially senior citizens, are inconvenienced as there is practically no place for them to walk. Dealing with illegal parking is a major challenge and despite several drives by Mumbai traffic police, illegal parking continues.
Shreyashi Dasgupta, an office-goer at New Marine Lines, says, "My workplace is near Khao gully, where double parking is a major issue. This is worse during the lunch hour and even walking down this road becomes difficult. Stepping out to buy lunch here is a problem as the entrance is chock-a-block."
Shoppers paradise, no more
Crawford market, one of the city's most popular and crowded places, has everything one can think of. However, the roads around this iconic market is teeming with illegally parked vehicles. The streets opposite Crawford Market—Carnac Road, Sarang Street and Abdul Rehman Street—are sore spots around the area. These roads see perpetual hijacking of space by the innumerable cars, cabs and mini trucks, which are illegally parked here. Making the scene worse are the several trucks, parked near the stores, that unload goods even during peak traffic hours.
Melissa Fernandes, who frequents Crawford Market, says, "The entire place is chaotic, not just for people who visit here in their cars but also for shoppers. Post shopping, it is so difficult to walk around with big bags as the cars parked leave no space for pedestrians. It is also difficult to cross the narrowed down road."
VIP treatment?
Several places around Churchgate Railway Station, especially the by-lanes, are used to park cars. Cars of government officials are also seen parked here. Kanwal Shahpuri, a resident of Churchgate, says, "It is surprising how even government vehicles are parked outside Churchgate Station opposite Suryodaya Stores. The entrance to the station is blocked by these vehicles. God forbid if there is an emergency and people have to rush out, such less space may lead to stampede."
Residents have to face this inconvenience daily and there is little relief. Even the roads and spaces outside government buildings like the Canteen Stores Department and the India Tourism Office are not spared. Illegal parking gives birth to traffic snarls and narrower roads. Frustration and constant traffic congestion increase instances of road rage. Wilhelmina Athaide, a resident of Marine Lines cross road no. 2, says, "Around 10 to 12 taxis are parked outside my building and every time I've to drive out, they are either reversing their vehicle, taking a U-turn or have double parked outside. There is very little space left for residents."
DCP Keshav Patil (traffic), says, "Evey time we check on the illegal parking in any area, we fine them and action is taken against them. Currently, we are conducting a drive against motorists accessing JJ flyover and the newly-opened Eastern Freeway, as riding is not allowed there. Initiatives are also being taken up against traffic violators. Dr. BK Upadhyay, Joint Commissioner of Police (traffic), is currently on leave and when he gets back, let's see what initiatives can be taken up to curb illegal parking."