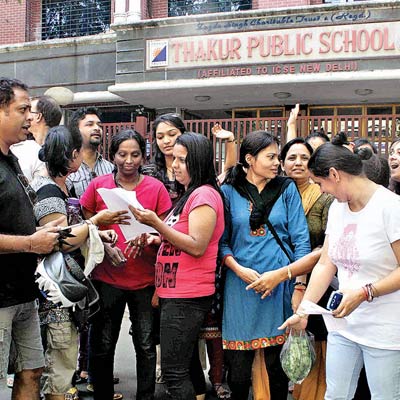 Parents of students of Thakur Public School, Kandivali gathered in large numbers outside the school on Sunday morning to decide on the further course of action as in spite of several protests and discussions, the school has refused to change to its decision of shifting school timings.
The students' parents have decided to approach the local member of legislative assembly and the state education minister to help them out. "We will write to the local MLA and the education department. We will also approach the education minister as all our requests have fallen on deaf ears," said a parent.
On January 29, the parents were informed through a circular that the primary section timings would be changed from the present 7.45am-2.30pm to 11am-5pm. The parents have since been protesting the move.
"We have been asking the school to reconsider because the proposed timings are extremely inconvenient for most parents, but the school is refusing to change its decision. We have been told that the timings will change and we can take our wards to another school. Admissions at most schools are done, so how does the school expect us to move out?" said another parent. The parents had earlier collected over 1,300 signatures and submitted it them to the school.
According to the circular signed by principal Reetu Duggal, the reasons for the change in timings is to help students get sufficient sleep, be able to carry home-cooked lunch, exclusive bus service, providing additional activities and using morning hours for homework.
Duggal was unavailable for comment.