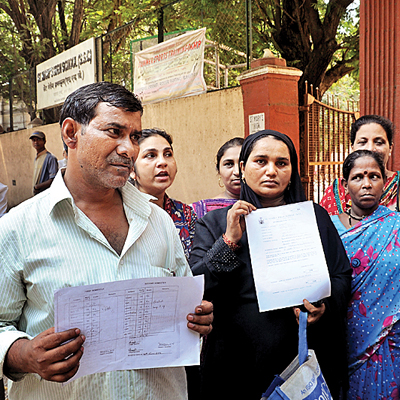 Parents of 15 students from St Anne's Parochial School in Mazgaon, which has shut down, approached the BMC education officer on Saturday after their wards failed to get admission in St Mary's School based on a lottery process conducted there on Friday.
St Anne's, which conducted classes only till Std IV, gave a leaving certificate to its students on April 30 after deciding to shut down post the last batch.
Parent of a student in St Anne's Ravi Jaiswal said out of the school's 27 pupils, seven got admission in St Mary's, 15 did not and the rest went elsewhere.
Parents of those 15 on Friday had also waited outside St Mary's to meet its principal, Fr Baptist Pinto, and request him to give admission to their children.
According to authorities at St Mary's SSC School, they have three divisions for Std V. Two of them are filled with their own students — 50 in each class — and students coming from outside are being given admission in the third division.
Parent of one of the students who didn't get admission Bharti Jain said, "Now where will my child go to school? I had come earlier as well and filled the admission form at St Mary's to get my child into the primary grade there, but I was always told not to worry and that my child can easily get admission in the school after Std IV as St Anne's and St Mary's are under the same trust."
Echoing Jain, another parent, Jyoti Kamariya, said, "I filed applications in around 12 schools till Dadar for my child's admission to Std V, but not a single school replied. Now, if this school also refuses, where will my son complete his schooling? Today, fathers of all students went to the BMC education office in Dadar because, when they went to the office in Charni Road, they were told primary schools don't fall under them."
"The BMC education officer just took an application from us and asked us to return on Monday. Many nearby school students have applied for admission despite their school having classes till Std X. In fact, they have got admission but not our children," said Dilip Dhuria, another aggrieved parent.
Fr Pinto, however, said, "We have sold 233 forms for admission, but there are only 40 seats available in the third division of Std V. We held a lottery process as per which 40 students have been given admission. We have not promised any separate seats to anyone. The entire process was conducted as per education department rules."